Michael Jackson, the King of Pop, passed away this month at the age of 50. In addition to being a pop superstar, Jackson was also one of the strangest celebrities we have ever seen. So today we would like to present to you
The Top Ten Oddest Michael Jackson Moments
10. Pepsi Commercial – Hair on Fire
On January 27, 1984, Michael Jackson has received hospital treatment for serious burns to his head after his hair caught light during a freak filming accident.
BBC Story:
The 25-year-old entertainer was singing his hit "Billie Jean" for a Pepsi Cola commercial in Los Angeles when the special effects went wrong. Three thousand fans saw a firework display erupt behind the superstar, showering him in sparks and setting light to his hair. Some studio audience members said he was so calm, they thought the incident was part of the act. Michael Jackson was taken to hospital where he was treated for second degree burns.
9. Jackson Makes Bid for the Bones of the Elephant Man
In 1987, Jackson made a bid to buy the bones of Joseph Merrick, popularly known as the "Elephant Man". In exchange for the remains, Jackson offered the London Hospital Medical College $500,000. Jackson later doubled the offer. (he was not successful)
More info here, including audio clip.
8. The Hyperbaric Oxygen Chamber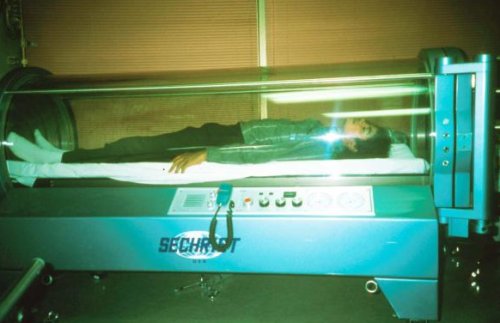 Common Gate:
Photos of Jackson sleeping in a pressurized oxygen chamber showed up in The National Enquirer in 1986.
The Enquirer quoted the singer as saying: "I've taken several long naps in a hyperbaric oxygen chamber and when I awoke I felt like a new person – I've never felt better. I definitely want one for my home so I can sleep in it at night. I plan to get one immediately. I want to live to see world peace, a world without hunger, a world where children and all mankind know no suffering. I believe if I treat my body properly I'll live to be at least 150."
This is said to be a "hoax". By that, we mean that the photo is apparently real but it was just Jackson messing around, and that he never really did sleep in an oxygen chamber. Of course, given all the weird news about Jackson that would surface later, we're not so sure about him not using one.
7. Islam and the Abaya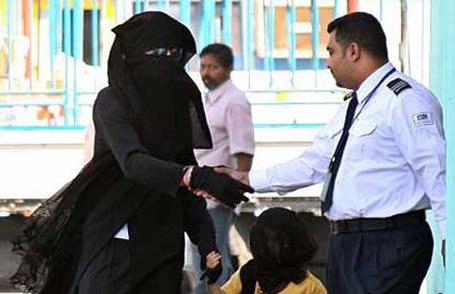 In 2006, MJ is spotted shopping in a Bahrain mall, hiding his face behind a veil and donning a black robe traditionally worn by women in the Gulf (called the abaya, not a burka as some think). Jackson made several trips to Bahrain as a guest of Sheik Abdullah bin Hamad Al Khalifa, the son of Bahrain's king. He reportedly was negotiating a position as a consultant with a Bahrain-based company that plans to set up theme parks and music academies in the Middle East.
In a related incident, MJ was seen entering the ladies room in a shopping mall in Dubai, UAE. His publicist said Jackson did not understand the Arabic sign on the door and left the bathroom when he realized his mistake.
It should be noted that Jackson, who grew up as a Jehovah's Witness, later converted to Islam:
The buzz was loud in November, 2008, when reports came out that one of the world's most famous celebrities was no longer to be known as Michael Jackson, but as Mikaeel, following the King of Pop's conversion to Islam. The former Jehovah's Witness reportedly took the shahada, or oath of Islamic faith, in Los Angeles at the home of a musician friend, after being encouraged to embrace Islam by Canadian-Muslim Dawud Wharnsby and producer Phillip Bubal. His brother, Jermaine Friday, who had converted to Islam in 1989, is also reported to have helped his brother to the fold.
No word on whether Jackson will receive a Muslim burial.
6. Debbie Rowe and The Children: Michael Joseph, Paris Michael, and Prince Michael (AKA Blanket)
Once married to nurse Debbie Row, Jackson would have a son and a daughter by her (Michael Joseph Jackson and Paris Michael Katherine Jackson). In 2002, another son, Prince Michael Jackson II, (known as "Blanket"), was born to an unidentified surrogate mother.
Jackson having children isn't odd in itself (or, then again, maybe it is?), but it sure was a strange scene every time he took them out. The kids were almost never seen without some kind of mask covering their faces.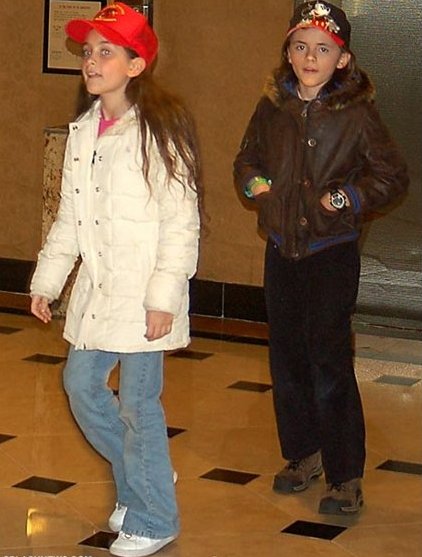 And let's not forget the "child dangling" incident in Berlin involving a baby Prince Michael II:
Newsflash
What do you know? Debbie Rowe might not be the biological mom after all… and Jacko ain't the biological dad either!
Reports say Jackson is not father of children:
Less than a week after Michael Jackson's sudden death, multiple reports have surfaced claiming that Michael Jackson is not the biological father of any of his children. One report also states that ex-wife Debbie Rowe is also not the biological mother of the two of the singer's children to which she gave birth. According to a report in Us Weekly, multiple sources claim to the mag that Jackson's dermatologist (and Debbie Rowe's former boss), Arnold Klein, is the biological father to Prince Michael, 12, Paris, 11. "He is the dad," a Jackson source claimed. "He and Debbie signed an agreement saying they would never reveal the truth."
According to a report by TMZ.com, the Jackson children's biological family tree is actually even more of a mystery. The Web site claims that in addition to not fathering his two eldest children, that Jackson did not father his youngest, Prince Michael II, 7, either. TMZ also claims that Rowe is not biological mother of Prince Michael and Paris. According to multiple TMZ sources, all three Jackson children, "were conceived in vitro — outside the womb," using a sperm donor and that Rowe's eggs were not used. The Web site claims she was used as a surrogate and paid well for carrying the children. As for Prince Michael II, TMZ reported the surrogate that Jackson used was not told to whom the baby she was carrying would go. Three days after the baby was born at Grossmont Hospital in San Diego County, a lawyer for Jackson reportedly picked up the baby and delivered the newborn to the singer. TMZ has also reported that it is not known if Jackson selected the donors himself or if he was unaware of whose sperm and egg was being used. The site goes on to claim that documents do exist outlining all of the arrangements surrounding the births of all three children.
Go to List Items 1 Through 5