The Top Ten Oddest Michael Jackson Moments, continued
Items 1 through 5
5. Bubbles the Chimp

Jacko's treasured pet chimp was his BFF back in the 80s. Rescued from a cancer research center in Texas in 1985, Bubbles accompanied MJ to movie premieres, parties, and recording sessions. The pair often dressed in similar outfits. Bubbles was apparently sent away sometime around 2002 for being too aggressive.
Bubbles is still alive. At 26 years of age, the chimpanzee lives at the Center for Great Apes in Wauchula, Florida. MJ apparently never made it out to see him.
4. Lisa Marie Presley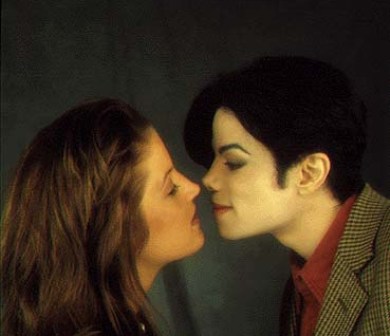 On May26, 1994, not too long after the debacle involving Jordy Chandler and Neverland (we'll get to that), Jacko married Lisa-Marie Presley, child of Elvis and Priscilla. It should be noted that this was only 20 days following Presley's divorce from Danny Keough. It was said that after 4 months, MJ proposed to her over the phone.
As child molestation accusations became public, Jackson became dependent on Lisa Marie for emotional support; she was concerned about his faltering health and his addiction to drugs. In 1995, she appeared in nothing but a towel around her waist in the music video for his song "You Are Not Alone". It was one of the few instances where their affection for one another was exhibited in public. The marriage was, in her words, "a married couple's life … that was sexually active".
The infamous "kiss" at the MTV video music awards in 1994:
Was it really love or was Lisa Marie's purpose to help MJ's image?
Presley filed for divorce in January 1996 (after only 19 months).
3. Neverland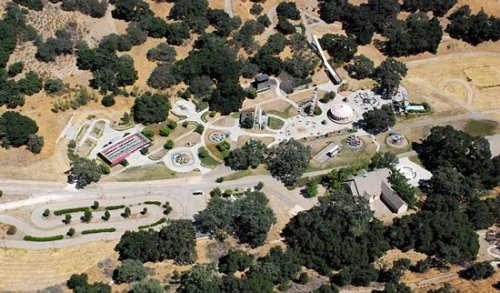 Neverland Valley Ranch is a developed property in Santa Barbara County, California, covering an area of over 2,800 acres. The ranch operated as Jackson's private amusement park and home when the facility opened in 1988, but is no longer in operation. It contained, among other things, a zoo and a theme park, with a Ferris wheel, merry-go-round, zipper, spider, sea dragon, wave swinger, super slide, dragon wagon kiddie roller coaster, and bumper cars. It is named after Neverland, the fantasy island in the story of Peter Pan, where children never grow up.
It is said that Neverland was another product of Jacko's obsession with (becoming) Peter Pan and finding his lost childhood. In a sense, MJ never grew up. MJ ran into lots of money problems, and on November 11, 2008 he transferred the title to Sycamore Valley Ranch Company LLC.
Jacko took a lot of kids to Neverland, and he slept in the same bed with them. Which leads us to…
2. Kids and Jesus Juice, 1993 and 2005 Sexual abuse accusations
In 1993, Michael Jackson was accused of abuse by Evan Chandler, on behalf of his then-13-year-old child, Jordan Chandler. Under the influence of a controversial sedative administered by Evan Chandler, his son said that Jackson had touched his penis. Jordan Chandler told a psychiatrist and police that he and Jackson had engaged in acts of kissing, masturbation, and oral sex, as well as giving a description of what he alleges were the singer's genitals.
Neverland was searched. Jackson became dependent on drugs as the stress of the allegations mounted, and canceled the remainder of his tour. He went into rehabilitation overseas, and began a relationship with Lisa Marie Presley (see #4 above). On his return to the US, Jackson agreed to a 25-minute strip search, which was required to see if the description of his genitals provided by Jordan Chandler was accurate. Doctors concluded that there were some strong similarities but it was not a definitive match. Jackson proclaimed his innocence.
On January 1, 1994, Jackson settled out of court with the Chandler family for $22 million. Jordan Chandler refused to testify in the criminal proceedings, the state closed its criminal investigation citing lack of evidence, Jackson was not charged with a crime. Jackson's support amongst the public then began to waver, and Jackson's own career and image was significantly damaged.
Prosecution evidence from the 1993 allegations would also be used against MJ in the 2005 People v. Jackson child sexual abuse trial, where Gavin Arvizo accused him of sexual molestation. Arvizo was 13 years old at the time of the alleged crimes. Jacko was indicted for four counts of molesting a minor, four counts of intoxicating a minor, one count of abduction, and one count of conspiring to hold the boy and his family captive at his Neverland compound. He denied all counts and asserted that he was the victim of a failed extortion attempt.
Adult materials found at Neverland included over 70 magazines of heterosexual porn, including publications dedicated to mature and overweight women. All were legal. However, some had fingerprints of the two brothers on them; both boys claimed that Jackson showed these adult materials to them for the purpose of Child grooming, and gave them alcohol, which he called "Jesus juice".
On June 13, 2005, the jury found Jackson not guilty on all charges.
Here's the infamous interview where MJ admits to sharing a beds with "many children":
1. The Surgeries
The biggie: just look at him and how he changed over the years.
The best thing to do is to look at the History of Michael Jackson's face. It was obvious by the Thriller era that he had work done on his nose, but this wasn't a major disaster – if MJ had stopped there it would have been alright.
But he didn't stop there.

In the later half of the 1980s Jacko would put himself on a surgical course to disaster. His transformation from attractive black man to undead zombified white woman shocked everyone. By 2004 his nose had become so damaged that a surgeon had to take a part of his ear to replace it.
Michael Jackson: A man so ashamed of his African American heritage that he would try to become white? Or was he just so sick of his image that he would subconsciously try to destroy it? What could happen to someone in childhood that would be so devastating as to warp his mind for the rest of his life? Or was it just the pressure of super-fame that destroyed Michael? Maybe in the coming months we'll find out…
Go to List Items 6 Through 10
Worthy Mention / Runners Up