Note: This article was originally published on May 25, 2007. There have been lots of changes since then. See bottom of page for updates on Amy Fisher and friends.
---
You remember Amy Fisher, right? She was the 17 year old Long Island girl who shot her lover Joey Buttafuoco's wife in the face and went to prison for 7 years.
Now, 15 years after the shooting, the Long Island Lolita and Joey are back kissing again.
According to the New York Post:
Long Island's two biggest losers just went from zero to 60 in less than a week. Five days after reuniting for the cameras, they say they're moving in together. Lumpy lothario Joey Buttafuoco says he isn't about to waste any time shoring up the budding, bizarro relationship he has with former "Long Island Lolita" lover Amy Fisher – he's flying to New York from California on Friday to move into her Holtsville, L.I., home, sources said yesterday.
Fisher's estranged hubby is in the process of moving out, TV's "The Insider" reported. Buttafuoco's comely estranged wife, Evanka, who as recently as this past weekend was spotted canoodling with her beefy hubby poolside in Palm Springs, hinted she may fight to keep her man.
Buttafuoco, 53, and Fisher, 32, were last lovers 15 years ago – when the Lolita pumped a bullet into the head of her previous love rival, Joey's then-wife, Mary Jo. Skeptics say the pair's recent oddball bid to reunite is being spurred on by a planned reality-TV show.
In case you tried to forget Joey and Amy, we'll we're here to put an end to that dream. Let's yank them back from the edge of the memory precipice, shall we?
The Players
Joey Buttafuoco
Asshole body shop guy who cheated on his wife with a 16 year old. Pleaded guilty to one count of statutory rape and served four months in jail. He and his wife later moved to California and divorced on February 3, 2003. In 1995, he pleaded no contest on a solicitation of prostitution charge and was fined and placed on probation for two years. In 2004, he was sentenced to a year in jail and five years of probation after pleading guilty to auto insurance fraud. In 2005, he was charged with illegal possession of ammunition due to his convicted felon status. Probation officers found the ammunition during a search of his home. He pled no contest and begun serving his sentence on Jan. 8, 2007. He was released on April 28, 2007.
He's probably just misunderstood.
Amy Fisher
Typical 16 year old high school Lolita-type. Totally crazy, like most 16 year old girls. Only more crazy, since
a) she falls for Joey instead of running away screaming in disgust like a normal teenager would, and
b) is so jealous she actually shoots the wife.
Also c) was an hooker for awhile.
Maybe she just needed a MySpace page or LiveJournal. They might have saved her. Ok, maybe not, but at least we would know all the sordid details right away.
She served 7 years in prison. After her release from jail, Fisher became a columnist for the Long Island Press, and won a Media Award for Column/News from the Society of Professional Journalists in 2004. She wrote a book about her experiences, entitled If I Knew Then
, which was published in 2004. The Long Island Press announced Fisher's departure from the newspaper in late December, 2005. She continues to be actively involved in campaigning for prisoners' rights. Was married in 2003 to Louis Bellera, with whom she has two children Brett, born in 2001, and Ava Rose, born in 2005.
In 2006, Amy Fisher reunited with Mary Jo Buttafuoco in sessions televised for Entertainment Tonight and it's spin off The Insider. She said she wanted to heal her past and move on with her life. Fisher and Joey Buttafuoco reunited at the 2006 Lingerie Bowl for the coin toss.
On May 13th, 2007, the New York Post reported that Amy Fisher had left her husband and Joey left his girlfriend and were both reportedly supposed to go out on a date over Central Park on Monday, May 14th to either reconcile or pitch an idea where both of them would live together for a reality series.
Louis Bellera
Amy's hubby and father of her kids. Filed for divorce. High probability that this was a good move.
Evanka Buttafuoco
Joey's wife and mother of his kids. Filed for divorce, on the same day Louis Bellera did. Attractive lady. Rumors say she may fight for him. I can see that, being he's such an attractive guy and all.
Mary Jo Connery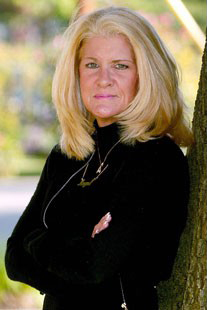 Joey's ex-wife and unlucky recipient of aforementioned bullet to face. Lives in California and runs OriginalPartyPosters.com [now Stumps Party] with her fiance Stu Tendler. Seems pretty happy, good for her.
Stu Tendler
Mary Jo's fiance. Seems like a good guy. Yay for Mary Jo!
Why do we like train wrecks? Why do we like to watch? Why do we slow down when we go past an accident scene? It's the nature of the beast, I guess, Mary Jo Connery told ABC's "Good Morning America" last week.
It seems like only yesterday we had our eyes glued to the tube to find out the fate of these two lovebirds Joey and Amy. Now their back in a surprise move, just like Mary Jo was surprised that fateful day when she answered the door only to get capped by some freak from Kennedy High. Actually, in this post-911 bizarro world, I kinda miss those days. The days of domestic violence and jealous underage mistresses who were hookers by night. We were all so innocent back then.
Updates – August, 2011
Where are they now?
Well, Joey Buttafuoco now refers to himself as "Joe" and remains married to Evanka (she withdrew her divorce bid and reconciled). He sometimes works at his buddy's hot-rod shop in Chatsworth, California (Evanka also works in auto-repair). Source
Amy Fisher also remains married to Lou. The couple never went through with the divorce, reconciling in 2007. Fisher, as you might know, became active in the adult film industry. A sex tape involving her and Lou was released. (Joey and Evanka also have a tape, which was apparently taken without their knowledge). At first she was mad about it, but later settled for some cash. Fisher got herself a boob job and did a bunch more adult-rated movies later, finding the porn industry to her liking (shocking!)
Fisher can now be seen on Celebrity Rehab, which appears on VH1. In Episode 6, Lou got pissed when the wife of Jeremy Jackson referred to Amy's past attack on Mary Jo. Amy whined about it. Sounds riveting!
Mary Jo is still together with Stu Tendler. I assume that they are married by now. She wrote a book called Getting It Through My Thick Skull: Why I Stayed, What I Learned, and What Millions of People Involved with Sociopaths Need to Know
, where she called Joey a very good "sociopath." She was sued by Joey back in 2009 for defamation. I have no idea what became of that suit.
Author Bio
Written by Ester K. is a content writer at Kemistri and a sales and Public Relations (PR nerd), obsessed with research, sleeping in as much as possible, and listening to podcasts. When I am not at home with my fam I enjoy long walks through the beautiful city of Jerusalem.