Here's a short Britney Spears biography in which we take a look at the rise, fall, and rise of a 21st century pop star.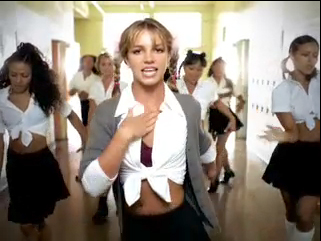 Born on December 2, 1981, Britney Spears got into show business as a kid, including a stint on the Disney show The Mickey Mouse Club. Her first pop album …Baby One More Time
was released in 1999, right before the turn of the millennium. That one and her second album Oops!… I Did It Again
(released in 2000) broke records and she landed a string of hits that carried her through the whole decade. Her influence on mainstream and pop culture of the 2000s can't be ignored, along with her promotional skills (to this day we find it hard to separate her from the Pepsi brand).
Britney Spears Biography – Obsession and Chaos
But what's just as interesting as her rise to fame is her downward spiral by the year 2007/2008. See, by 2003, Britney Spears had 4 albums in the can and everybody loved her, including Presidential candidate Bob Dole. Remember that freaky Pepsi commercial?
But then, she got married. In early January, 2004, Spears married her childhood friend Jason Allen Alexander in Vegas. Of course, the thing was annulled hours later, but was this a sign that her lifestyle was getting out of hand? Or did she anger the gods? In June of that year, she fell and hurt her knee during a music video shoot, then had to spend months in rehabilitation, which caused her tour to be canceled. In July of that year, she surprised everybody by getting engaged to Kevin Federline, aka K-Fed (a whole other subject himself). Then there was the reality show called Britney & Kevin: Chaotic
, which started to sum up Britney's life quite nicely.
After getting married to K-Fed on September 18, 2004, she released her own perfume plus a compilation album (Greatest Hits: My Prerogative
) which did very well. A year later, Sean Preston Federline was born.
In February 2006, pictures surfaced of Spears driving with her son Sean, on her lap instead of in a car seat.
The response by the media, who freaked, is a great example of everyone's Britney-obsession of the decade.
In 2006, a pregnant Spears posed nude for the cover of Harper's Bazaar.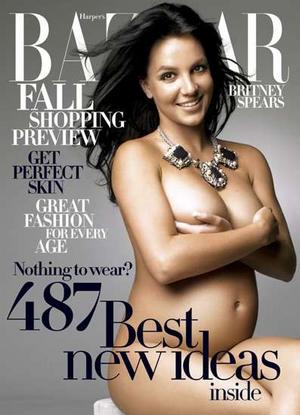 In September, Jayden James Federline was born.
Britney Spears Biography – Britney Goes Ballistic
On November 7, 2006, Spears filed for divorce from Federline, citing irreconcilable differences. They were officially divorced by the following July.
Britney Spears Enters – and Exits – Rehab
On February 16, 2007, Spears checked into a rehab facility. However, she is reported to have only stayed a day before leaving. Meanwhile, an e-mail from Felicia Culotta (Spears' former assistant) said that the singer was headed for "rock bottom."
"I cherish all the incredible opportunities that came my way thru my job with Britney and am crushed/saddened/heart sick by the way her life is unfolding."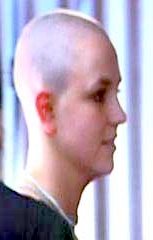 The following night, Spears is spotted in Los Angeles shaving her head – a DIY job – in a salon she demanded open up after hours. She then departed for a tattoo shop, where ABC News reports she had "red and pink lips" inked on her wrist among other work done. She left in a big hooded sweatshirt and a Jewish star around her neck.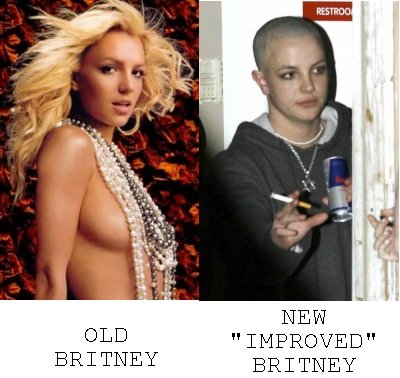 Britney Enters Rehab One More Time, And Exits Rehab… One More Time
On February 20, 2007, Spears checked herself into the Promises residential treatment center in Malibu. On February 21st, she checked herself out.
On February 22, 2007, tabloid site X17 sends their paparazzi to follow Britney around. She loses it and attacks their car with an umbrella. Spears then returns to rehab for the third time.
Spears lost physical custody of her children to Federline on October 1, 2007. The reasons of the court ruling were not revealed to the public.
Britney Spears Biography: The Comeback (Kinda)
Her fifth studio album, Blackout
, is released that month to critical and financial success. She performs the album's first song at the MTV Video Music awards. The performance was panned by many critics.
David Willis of BBC stated her performance would "go down in the history books as being one of the worst to grace the MTV Awards."
Despite the backlash to her performance (and looks), the single was a worldwide success.
On January 3, 2008, Spears refused to relinquish custody of her sons to Federline's representatives. She is hospitalized at Cedars-Sinai Medical Center, after police said she looked like she was on something. The next day, her visitation rights were suspended at an emergency court hearing, and K-Fed is given sole physical and legal custody of the kids.
On January 31, Spears was committed to the psychiatric ward of Ronald Reagan UCLA Medical Center. She was released February 6th. In July, Spears regained some visitation rights.
On September 7, at the MTV video music awards, Britney won Best Female Video, Best Pop Video and Video Of The Year for Piece Of Me
. Her sixth studio album Circus
was released in December and got good critical reviews, although one of her hits If U Seek Amy
(which is just a sly way of saying something "naughty") had some people in a tizzy (like Fox News).
In our short Britney Spears biography, we have covered her decade-long career in an age of the Internet and 24/7 media. We think it's one of the greatest examples of the ups and downs of a 21st century pop star.