Playboy model and reality show star Anna Nicole Smith died on February 8th, 2007 at the age of 39. She collapsed at the Seminole Hard Rock Hotel and Casino in Hollywood, Florida. Her boyfriend, lawyer Howard K. Stern and bodyguard Big Moe were present. Paramedics gave her CPR and she was taken to Memorial Regional Hospital shortly after 2:10 p.m. She passed away around 4pm.
From Fox News:
Smith's 20-year-old son Daniel Smith died in his mother's hospital room in the Bahamas in September, three days after she gave birth to a baby girl, later named Dannielynn Hope Marshall Stern. Howard K. Stern, 38, says he is the father of Dannielynn. But Smith's ex-boyfriend Larry Birkhead, 32, claims he's the father, and has sued to demand a paternity test.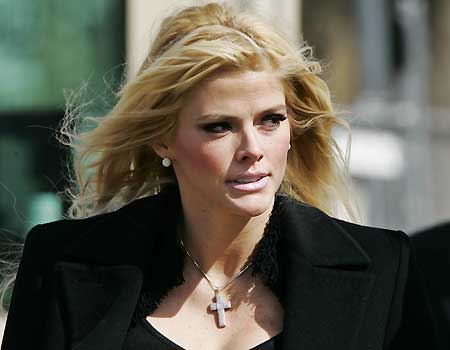 Fox News also reported that footage of Anna Nicole's final moments sparked a media bidding war. Paparazzi agency Splash News was peddling the two minute videotape, which showed paramedics working on Smith as she was wheeled out of the hotel. On the tape, Smith was covered in a sheet and had an oxygen mask over her face. The tape ended up being sold for over $500,000. The winning bidder was unknown, but the footage later turned up on German TV.
Drug Overdose
After a seven-week investigation, Broward County Medical Examiner and Forensic Pathologist Dr. Joshua Perper announced that Smith died of "combined drug intoxication" with the sleeping medication chloral hydrate as the "major component." No illegal drugs were found in her system.
It was an accidental drug overdose of chloral hydrate that was made lethal when combined with other prescription drugs in her system (which included Klonopin, Ativan, Serax, and Valium). She had also taken Benadryl and Topamax, which likely contributed to the sedative effect of chloral hydrate and the benzodiazepines.
It was reported that 8 of the 11 drugs in Smith's system, including the chloral hydrate, were prescribed to Howard K. Stern, not Smith.
Before Smith's body was buried, it began decomposing at a faster-than-normal pace. The family ended up having a closed-casket funeral.
Larry Birkhead and Dannielynn
DNA tests later proved that Anna Nicole Smith's former boyfriend Larry Birkhead is the father of her infant daughter Dannielynn. Howard K. Stern, who had been caring for the girl, did not fight for custody.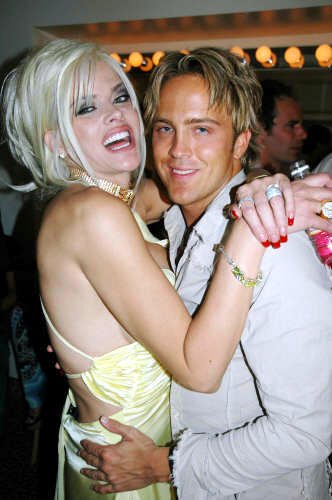 For more about Anna Nicole Smith see
Anna Nicole Smith – The Mexia Years
Anna Nicole Smith – The Houston Years