Welcome to Family Automart, where, as they like to say: The Wheelin and Dealin Start.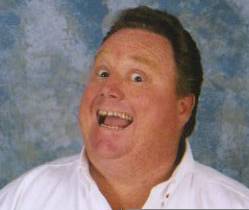 First, a little background from the Family Auto Mart Website:
Brian Power opened the car dealership called Family AutoMart in 1992, located in Melbourne, FL. He bought 3 minutes of airtime on a local leased access car show. Instead of doing what everyone else was doing (walking car to car trying to sell each car through the TV), he took a more creative approach and would write funny skits. Calling himself "The Family Man", Power's 30 second spots were popular enough to lead to 30 minute infomercials, called "The Family Auto Mart Show".
This started a cult following for lots of late-nighters in Central Florida with insomnia. People would watch, not because they needed a car, but because it was truly entertaining local television.
Family AutoMart's late night infomercials were a huge hit with me and my friends. Todd even went over there and was kind enough to bring me back a shirt.
The family man is completely wacky! Cartwheels, silly rhymes, goofy football skits, freewheeling video edits and effects… ya gotta see it to believe it.
Sometimes when you've been partying on the weekends and you come back to the house around 3am, you can't quite get to sleep right away. You stay up and watch TV. Normally, local TV just has infomercials. But if you're really lucky, you might just catch something as special as the family man. Remember, their boo-coo minivans have ice-cold A/C that will SET YOU FREE.
Today, "The Family Auto Mart Show" is now a complete 30-minute show and is 50% funded by outside advertisers. The show airs in a potential of 1.2 million households 3 times a night, that is 12 counties in Central Florida. As for car sales, Family AutoMart is still the number 1 dealer in Brevard County, selling 80-120 cars/month.
I only wish that Hubcap City, (Sanford!) achieved that same level of success. Now that was a catchy tune…