Stephanie Ragusa is back in the news. Current serving jail time, she wrote a personal letter to Hulk Hogan's son Nick Hogan, also in jail. Nick is 17, just about the age she likes.
Background:
Since we last saw her, Ragusa had been out on bail after being arrested for allegedly having sex with two students (minors) in early 2007. She was initially released March 18, 2008 after posting bail, but was re-arrested April 15 when investigators found out about the second student.
She gets out on bail again. And what does she do? She goes right back to the home of one of her pet students and has sex with him again!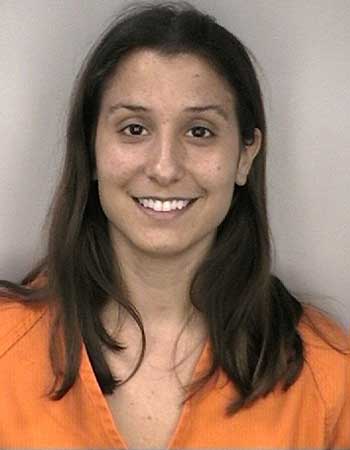 Life's One Big Party
Officers discovered Ragusa and the now-16-year-old boy at his house about 12:20 p.m. Monday, the arrest affidavit states. Ragusa had gone to the teen's house to discuss the criminal case but wound up in bed with him, police said. Detectives nabbed the woman as she was leaving and getting into her boyfriend's truck. Ragusa remained behind bars Tuesday, charged with two counts of unlawful sexual activity with a minor.
Nick Hogan
Sitting in jail, Ragusa wrote a letter to the son of wrestler Hulk Hogan, Nick Bollea (also in jail), which was intercepted by Pinellas County sheriff's deputies. Bollea, who was later given a copy of the letter, is currently serving an eight-month sentence on a charge of reckless driving with serious bodily injury.

Celebrity Kids – Ragusa's Movin' On Up
The letter states:
"I just want you to know that you are not alone, and for what it's worth, I can sympathize with the dynamics of your case."

"It's not us, Nick, but something 'off' with society that our situations garner more attention and print than the president, the election or even an earthquake killing thousands. Keep your head up, and never lose sight of the light at the end of the tunnel. You have more people supporting and pulling for you than you will ever know. You remain in my prayers."
Nick Bollea is 17 years old. He sits at the Pinellas County Jail in Largo, Florida, after the August 26, 2007 crash in Clearwater, caused by reckless driving, where his friend John Graziano, a former U.S. Marine, was left permanently brain-damaged.

Trainin', Sayin Prayers, Eatin Vitamins
(Photograph Supplied by PacificCoastNews.com)