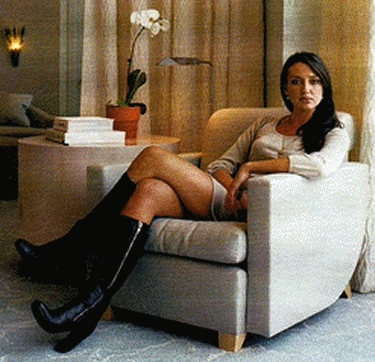 "There's no waaay Anna's going to turn into Paris Hilton," – Jeff Goldstein, former real-estate investment banker and Anna Anisimova's agent
Source: Moldova
Anna Anisimova has a reputation as Russia's answer to Paris Hilton. This is of course untrue, as anyone who has seen the children of Russian oligarchs in their native scenery will know. For example, one this we really do know about Paris is that she hasn't had her tits done. At Russell Simmons' surprise birthday celebration Sunday The Russian billion-heiress was wearing a low-cut gown that showed off her luscious, new large-size breasts. " Anna's rep had "no comment."
Who is Anna Anisimova?
AA is the 21 year old daughter of the Russian metals businessman Vassily Anisimov (#488 on the Forbes billionaire list). She is worth a reported $2 billion.
NYMag gives us the story here:
Anna Anisimova—or Anya, as she was known in Russia—was 6 years old in 1991, when the Soviet Union spontaneously combusted, and criminal groups were making a frenzied grab for the formerly state-owned industries in the smoke. Grenades were being lobbed, cars exploded by remote control, and relatives were snatched and held for ransom.
Anna, her teenage sister, her mother, Galina, and a grandmother settled upstate in Congers, a sleepy lakeside hamlet near where a commodities-broker associate of her father's had parked his own clan.
The Oligarchs
Known as "The Oligarchs," men like Anna's father Vassily Anisimov who made their fortunes in the sweat-beading era of post-Soviet gangster capitalism had been dispatching their families to live abroad for more than a decade. In Russia, these situations are known as zapasnoiye aerodromi, or backup airfields. "If you're flying high and President Putin suddenly decides to confiscate your property, you know you've got somewhere to land," says one Russian businessman.

Vasiliy Anisimov
On April 13, 2000, Anisimov's only child from a previous marriage and her husband were murdered in Yekaterinburg. A teacher noticed the couple's 8-year-old hadn't been picked up from school and called neighbors, who found the couple bound with duct tape, dead from multiple stab wounds. The murderers eventually confessed that they had planned only to rob the couple, but his terrified daughter started screaming that she was his daughter. And then the intruders panicked. "He was one of the top three businessmen in the Urals, so everybody knew his name," says the source. "It was like shouting 'I'm the daughter of a Rockefeller!' "
Born in Almaty, the former capital of Kazakhstan, Vassily Anisimov was a Soviet-era supply guy who started out in wholesale clothing and eventually found himself stocking a nuclear power plant outside Moscow. In 1989, he became a Russian agent for the New York commodities-trading firm IBE and a Spanish company importing brick-making machinery for aluminum factories. Soon, Anisimov was acquiring shares in aluminum plants, mines, and factories. Promotional literature for his company, Coalco, boasts that Anisimov was exporting aluminum products with the help of Marc Rich AG—at a time when Rich, who was known as Aluminumfinger, was still in control there. Anisimov founded Coalco with one of Rich's top men in Moscow.
Aluminum was the most criminal sphere of the Russian economy. Occasionally, executives were assassinated, and the bloodiest battle was fought for the second-largest smelter in the world: Krasnoyarsk.
The Novii Russkii
The Novii Russkii, or New Russians, are the sons and daughters and wives of those men who managed to enrich themselves enormously during Yeltsin's reign. Mainly Muscovites and ethnic Russians, they may be observed shopping for the right designer outfits on Madison Avenue and Brooklyn's Kings Highway, or crowding into Au Bar on weekends for $15 Long Island iced teas.
"Some of them have a sense of superiority over Americans," says one Russian-about-town. "They think Americans are too democratic in everyday life and are bewildered by the way that clothing doesn't distinguish rank the way it does in Western Europe. Back home in Moscow, they think they live better than the Americans, and it can be so exaggerated as to be comic."
The New Russians tend to look down on the "sausage immigrants" of the seventies and eighties, who were said to have come here in search of better food—eventually bum-rushing the Puerto Ricans out of Brighton Beach. These were mainly Jews from provincial cities in Moldova and Belarus and Ukraine. But every wave yielded a young, assimilation-minded generation that dreaded being labeled "Off the Boat". Anna was no exception.
Russian Real Estate
Russians have been quietly buying up property in Manhattan, upstate New York, Connecticut, and New Jersey towns like Fairlawn, Marlboro, and Old Bridge. "They spend a lot of money on real estate because they have a lot of cash," says one Russian. "In Russia, there is no such thing as a mortgage, and nobody trusts anybody, so people are paid up front." Anna's family has been quietly playing Monopoly with New York and Florida real estate for years.
From AskMen:
Anna put down more than half-a-million Yankee dollars just to rent a house for the summer. Anna goes to school at New York University, but she doesn't just sit around her Manhattan apartment studying and chatting. Apart from her four other residences across the U.S., she also bought a $23 million studio which she converted into condos. Now she's looking to move to Los Angeles where she is developing a line of perfume.
Among other things, Vassily Anisimov has shifted his attention to real estate, and this has been a father-daughter bonding experience.
The well-publicized Diane Von Furstenberg townhouse deal was Anna's first dip into development; other brokers considered the West Village property overpriced at the final $23 million, even if Anna plans to build a twelve-story condominium here. Her family very badly wanted a presence in the super-hot meatpacking district. Now Anna was talking about opening a DVF store in Moscow and installing a cool-concept sushi-restaurant-slash-lounge and maybe a beauty salon at another building in the West Village. "I'm dying to get a BlackBerry," she said. "Everyone has one."
The Apartment
Radar Online has photos of her $10 million dollar apartment in Time Warner Center.
Some of the interesting items in Anna's apartment are a 300 gallon saltwater fishtank in her bedroom ("I just woke up one morning and said: I want sea horses.") and a touch screen LCD remote that says : WELCOME TO THE ANISIMOVA RESIDENCE.