The Seattle Times has a story about the sect called the True Russian Orthodox Church, which went underground a few weeks back to "save themselves during the time of the apocalypse", which they state will come in May of 2008. The group of 29 people, including four children, has threatened to set fire to themselves if any attempt is made to force them to come to the surface.
The True Russian Orthodox Church
Source: rian.ru:
The Orthodox Church has spoken out against using force in the standoff with the True Russian Orthodox Church, which was formed by Father Pyotr Kuznetsov, a 43-year-old diagnosed schizophrenic currently in custody. He is believed to have ordered his followers underground last week. "Persuasion and negotiations should be used, as people there [in the cave] are brainwashed and difficult to reason with," Metropolitan Kirill of Smolensk and Kaliningrad said. "A violent solution should be avoided at all costs, it is very dangerous."
Pyotr Kuznetsov. Look, just do what he tells you.
Orthodox priests have pitched a tent near the shelter and are praying for the sect members, and trying to engage them in "peaceful dialogue" a source in the Penza diocese said, adding that Archbishop Philaret of Penza had written to them. "We are constantly engaged in talks, trying to make them change their minds, but it is difficult," the source said. "It took a long time to form their convictions, and reversing that process will not be quick."
From ABC News:
The cave is located in the village of Nikolskoe (400 miles SE of Moscow). Russian daily newspaper Izvestiya has published what it said is a map of the cave. It shows a fairly sophisticated setup with an area for eating, another for sleeping and a ditch for water, as well as an area designated for human waste. According to the illustration, the cave is sealed with heavy sacks, and in some places is more than 30 feet below ground. The soil is made up of thick clay and rocks.
The Oprichnik Brotherhood of Ivan the Terrible
The Rossiiskaya Gazeta newspaper reported on a group calling itself the Oprichnik Brotherhood of Ivan the Terrible, in the village of Koscsheyevo, a few hours from Moscow.
The Oprichniki were a group of merciless killers Ivan the Terrible used to eliminate his enemies in 16th century Russia. The modern-day Oprichniki live in peasantlike conditions (using outside toilets, drawing water from wells) and have a mixed reputation in the surrounding area. Some accuse them of cruelty and religious fanaticism, while others say they are a strange, yet essentially harmless group of committed Christians.

The group is believed to consist of three families, all of whom moved to the area from Russia's Far East a few years ago. A Russian expert on religions and sects, Alexander Dvorkin, told the paper the group shared many similarities with the sect in Penza – namely "mind control and deception." The brotherhood, like many such fringe Russian Orthodox groups, is reported to possess icons of Ivan the Terrible and the "mad monk" Rasputin.
Some more info from a translated page:
In Kosheleva they appeared a few years ago, they all come from the Far East. Their spiritual leader Andrei Alekseevich Shchedrin bought many houses and Lyubime and in the surrounding area. They do not smoke, do not swear mate, drink wine only on their own manufacturing holidays.
Religion was tightly controlled in the Soviet Union, and after it collapsed, there was an explosion in sects and cults, as well as interest in New Age philosophies and beliefs. The back pages of many Russian tabloid newspapers are full of advertisements for "healers" and "magicians."
The Vissarionites AKA The Church of the Last Testament
One of the most well-known sects in Russia has its base near the southern Siberian town of Abakan, where thousands of people, both Russian and foreign, worship a former Russian provincial traffic policeman, Sergei Torop, as the second coming of Christ. There now are believed to be several hundred such sects in Russia, containing some 600,000 to 800,000 people.
I am the Lord thy God. Don't crowd me, asshole!
Guardian UK has a story on him.
Already almost 10,000 have recognized the new Christ in him and even half of them have followed him to the mount Suhaja to the Siberia, some people even from countries like Germany and Denmark.
"It's all very complicated, but to keep things simple, yes, I am Jesus Christ. That which was promised must come to pass. And it was promised in Israel 2,000 years ago that I would return, that I would come back to finish what was started. I am not God. And it is a mistake to see Jesus as God. But I am the living word of God the Father. Everything that God wants to say, he says through me." – Vissarion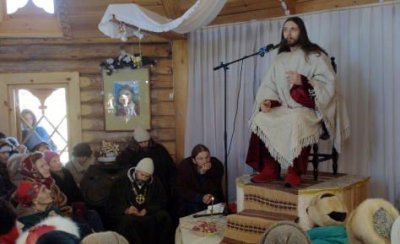 Ok, ok. Here's another one: Mohammed and I walk into a bar…
"He radiates incredible love," sighs Hermann, 57, a Bavarian engineer who is now selling his home in Germany to join the self-proclaimed messiah of the taiga. "I met Vissarion last August. He told me we had to follow two laws. It was like an electric shock, like bells ringing."
To find Vissarion, you fly 3,700km east from Moscow to the southern Siberian town of Abakan, north of the Mongolian border, then drive for six hours along rutted roads through a string of villages. Where the road ends in a rollercoaster of craters, the bog begins, and you trudge knee-deep in mud and ice for three hours before the final ascent to the "saviour", a steep hour's climb up a mountain path.
Sergei Torop now leads one of the biggest and most remote religious communes on the planet.
Combining new age eclecticism with medieval monasticism, the "Vissarionites", clustered in around 30 rural settlements in southern Siberia, now number around 4,000. They are unquestioningly dedicated to their guru. They utter his name in hushed tones. They decorate their homes, temples and workplaces with his image. They reverentially swap tales of the Teacher's every act or word. They pore over his four fat volumes of musings. His aphorisms are learned by rote and regurgitated daily.
To be a Vissarionite is to follow certain rules:
You must be vegan
No animal husbandry
No monetary exchange within the commune
No smoking
No drinking
No swearing
Jesus holds an invisible box. It's only invisible because your mind is so closed, non-believer.
Larissa, a mother of three who arrived here from Moscow with her mother 10 years ago as an 18-year-old says "Everything is banned here. We're not allowed to do anything except fall in love."
Devotees include Russian musicians, actresses, teachers, doctors, former Red Army colonels, an ex-deputy railways minister of Belarus, as well as a growing band of adherents from western Europe. Thousands of people, the majority of them educated professionals from cities in European Russia, abandoned wives, husbands and children to flock to the Church of the Last Testament, replicating the flight of the schismatics to Siberia from European Russia 350 years ago to escape persecution by the Orthodox church.