J. Napsterista brought this to our attention. Apparently, Taco Bell (Yum Brands, YUM) has a massive cult following in the United Kingdom. Taco Bell in England was tried before. The photo below is from a Taco Bell in London, circa 1989: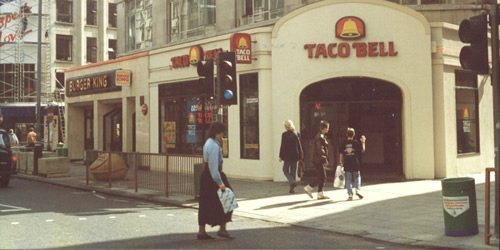 As this article from Bitter Wallet says:
Taco Bell opened four UK branches over here in the late 1980s but they didn't last long. But we're a far more sophisticated bunch these days and mention of the word 'burrito' doesn't bring most of us out in a nervous rash any more.
There are two Taco Bells we know of currently – the first is in the Lakeside Shopping Center, located in Thurrock, Essex. (The center was one of England's first out-of-town shopping centers). There's another Taco Bell located about 12 miles away, at the Eastgate Shopping Center in Basildon.
From Financial Times:
Nick Dawson (general manager) believed that the chain could now be successful given the greater awareness of Mexican food among Britons and the steady growth seen in the fast-food market during the recession. "UK consumers are looking for choice and value for money," said Mr Dawson. "Taco Bell, whose offerings are priced between 79p and £3, offers both." According to Yum, the Mexican food market in the UK has grown by 9 per cent in the past two years.
The Facebook page for Taco Bell UK is filled with excited Britons who leave comments like these:
My husband took me for my 40th birthday. Here I am eating a bean burrito supreme and a taco supreme!! My first Taco Bell visit in four years!! I took a train, the tube and another train to get there!
a taco bell in the midlands. please 🙂
Southampton please, I guess when I fly to America tomorrow real taco bell will have to do until you put one down south!!!
Open one in Swindon we never get nice things only pikey cheap shops
I want a taco bell in Seaham/Sunderland/Newcastle/Anywhere in the North East! that'd be the best.
DEAR TACO BELL, is there any chance you could let your hungry fans know where and what month you plan to open your next stoor? Even if it is a small piece of info, it will make my day! London is waiting…
You get the idea.
H/T to J.Nap