Today we deconstruct the lyrics of an Ice-T song, plus we add the Google Gangsta Map, which shows the routes the song talks about. First, here's Ice-T's Song Midnight, From O.G. Original Gangster
:
We boned down Vernon
Right on Normandie
Left on Florence
Gettin' thru the E.T.G.'s
Spun out on Vermont
Made a left on Colden
Right on Hoover
E where we goin'?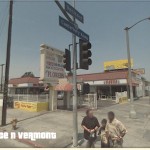 ETGs
The E/S 83 Gangster Crips (pronounced East Side Eight Tray Gangster Crips) are one of Los Angeles's most well known Crip Gangs. Their territory extends from Florence (north) to 89th Street (south) between Vermont (east) to Van Ness Avenue (west). Their territory also extends on the westside to Van Ness Avenue between 79th Street (north) and Manchester (south). ETG's were strongly involved in the 1992 Los Angeles riots and one-time member Kody Scott (aka Sanyika Shakur) wrote a popular autobiography entitled Monster: The Autobiography of an L.A. Gang Member
while he was in prison during the 1980s. The ETG's Crip rivals include all Neighbor Hood Crips (especially the Rollin 60s Neighborhood Crips), 99 Mafia Watts Crips and all Rollin 0's sets. The ongoing feud between the ETG and Rollin' 60s has been a bloody one, causing more Crip on Crip killing than with the rival Bloods. Other rivals include the 54 Van Ness Gangster Brims, Harvard Park Brims, Denver Lane Bloods, Hoover Criminals and any Sureños gang showing hostilities toward African Americans. They used to rival the Inglewood Family Gang, but now have an unofficial peace alliance to take on the Rollin 60s Neighborhood Crips and the Rollin 90s. Allies include 53 Avalon Gangster Crips, 84 and 98 Main Street Mafia Crips, 5-Duece (52) Broadway Gangster Crips, School Yard Crips and the Eight-Tray (83) Hoover Criminals.