The Top Ten Oddest Michael Jackson Moments
Worthy Mention/Runners Up
Jackson Purchases Publishing Rights to Beatles Songs
Back in 1963, the Beatles gave their publishing rights to Northern Songs, a company created by their manager, Brian Epstein, and a music publisher, Dick James. Northern Songs went public in 1965, and John Lennon and Paul McCartney each had 15% of the company's shares, while Dick James and the company's chairman, Charles Silver, held a controlling 37.5% of shares. In 1969, James and Silver sold Northern Songs and its assets to the Associated Television Corporation (ATV).
In 1985, ATV's music catalog was sold, and Michael Jackson was the high bidder. Jacko paid a reported $47 million for the publishing rights to somewhere between 159 to 260 Beatles songs. A decade later, Jackson and Sony merged their music publishing businesses. Since 1995, Jackson and Sony/ATV Music Publishing have jointly owned most of the Beatles songs.
WJBF:
Jackson paid $47.5 million for more than 200 songs, including classics like "Yesterday" and "Let It Be." The story goes that one day at Paul McCartney's house they were having dinner and Paul casually mentioned that the way to make real money in the music business is through publishing…and Michael took that to heart. Jackson's death is now raising fresh questions about what will happen to the Beatles back catalog. Earlier this year, it was reported that Jackson, feeling badly about the rift with McCartney, had plans to leave Sir Paul the rights to the songs in his will.
Bizarre Auction
Darren Julien's aborted auction of Jacko's personal items can be viewed here. It's as strange as you think.
The items, were slated for auction in April 2009 until Michael Jackson sued to block it. A settlement resulted in the goods being put on public display in Beverly Hills, but not put up for sale.
Death
OK, this one may or may not be cheating. But the circumstances surrounding MJ's death certainly are a bit strange.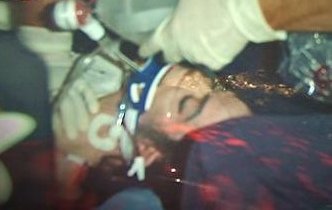 Coroner's officials seize medication from King of Pop's home :
Assistant Chief Coroner Ed Winter and other investigators emerged from Jackson's rented mansion on Monday bearing two large plastic carriers. Speculation has been rife that excessive use of powerful prescription pain killers may have played a role in Jackson's death. Edward Chernoff , the lawyer for his personal physician Conrad Murray, insisted that the doctor "never prescribed nor administered" the two particular drugs – Demerol or Oxycontin – to Jackson. There have also been unconfirmed reports that the singer had allegedly been using prescriptions in the names of several different people. The county medical examiner performed an autopsy the day after the 50-year-old entertainer died but has deferred a decision on the cause of death pending the results of tests. Jackson's family also arranged a second private autopsy, and are awaiting the results.
The reported leak of an autopsy, which stated that Jacko's body was "emaciated, covered with needle marks, full of scars, and that his stomach contained only partially digested prescription pills" has been exposed as a fake by the LA county coroner's office.
Start over from the beginning page