Welcome to Odd Culture's top Trainwreck Celebrity Scandal list. In this list, we name 10 celebrity trainwrecks who have been involved in one or many scandals. Drugs, DUIs, arrests, affairs, violence, or just plain insanity – it's all here!
Please note that this list only considers celebrities who are still alive. That excludes people like Anna Nicole Smith, Casey Johnson, and Michael Jackson.
The Top Trainwreck Celebrity Scandal List


Courtney Love




We have a soft spot for Hole singer/Kurt Kobain widow Courtney Love, because she's among the first celebrity trainwrecks we ever wrote about here. She's still a hot mess, though. It's ironic that she would be named after a dime store novel alcoholic character. After Courtney was spending her younger years in hippie communes, her mom split for New Zealand, leaving her behind. Shoplifting as a teen, she went to juvenile hall and got into rock and roll. While living in Dublin, she worked strip clubs for extra cash. Back in the states later, her music and movie career didn't take off, so it was back to stripping, which apparently she had a knack for.
After becoming successful with Hole
and marrying Kurt, the couple both had heroin problems and were staying in separate rehabs. Kurt checked out of rehab, went back to Seattle, and then checked out of life. This made Love an emotional wreck (more than usual), and many Nirvana fans held beliefs that she was responsible for his death. Kathleen Hanna (Bikini Kill) made a joke about Love's daughter Frances Bean, and Courtney punched her in the face. An infamous appearance on David Letterman in 2004 had Love standing on Dave's desk and flashing him. She was later busted for possession of controlled substances. She violated probation numerous times, which led to forced rehab in 2005/2006.
Then there was the legal dust-up with Eric Erlandson over the use of the Hole name for Courtney's record "Nobody's Daughter" but that seems to have been forgotten. Fashion designer Dawn Simorangkir is suing her for defamation, where Love called her a drug-pushing prostitute on Twitter. But these are much better problems to have than what has come before. Good work, Courtney!


Whitney Houston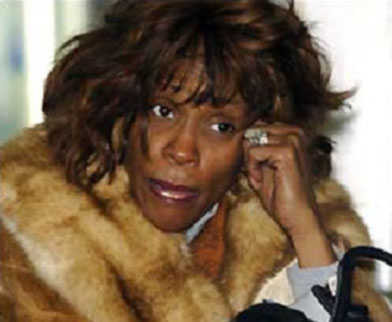 From superstar singer to movie sensation (The Bodyguard
) to drug-addicted trainwreck. That was Whitney Houston. Her marriage to Bobby Brown didn't help her at all. That extremely rocky relationship saw both of them addicted to drugs, which was obvious when Houston started missing her interviews and concerts. In January 2000, airport security found marajuana in the couple's luggage. More performance cancellations followed and associates started walking away from her.
In 2002, she infamously told Diane Sawyer:
First of all, let's get one thing straight. Crack is cheap. I make too much money to ever smoke crack. Let's get that straight. Okay? We don't do crack. We don't do that. Crack is wack.
The couple's trainwreck nature was further exposed in the reality TV show Being Bobby Brown. The couple were divorced in 2007. In 2009, Houston admitted to Oprah Winfrey that she used drugs with Bobby, including lacing pot with cocaine. A performance on The X Factor was not well received by the British press. This didn't affect her ability to sell records, however.
Houston seems to be doing a lot better these days. But her daughter Bobbi Kristina, who is 18, was just photographed snorting cocaine. Like mother, like daughter? Let's hope not.

Andy Dick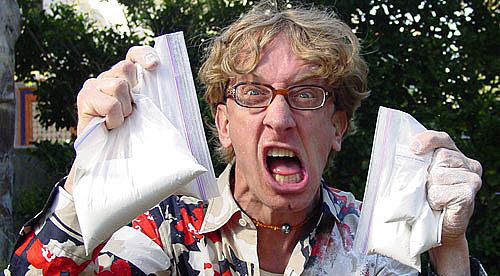 This guy is just one walking celebrity scandal. Andy Dick , AKA "The Groper" first came to attention with his appearance on The Ben Stiller Show
. He went on to perform in the TV show NewsRadio as well as his own show on MTV.
The comedian is better known, we think, for his love affair with drugs and outlandish behavior. An admitted bisexual, Andy Dick's life outside the studio seems to be one long string of bad decisions. It starts way back in 1999, when he hit a pole with his car, leading to his arrest for posession of coke and pot, along with the DUI, of course. He went into a drug program for a year and a half, but you know how those drug programs work on Hollywood types – that is, they usually don't.
In 2005, he dropped trou at a comedy performance in Canada. At a Comedy Central roast of William Shatner, he "licked the faces" of Farrah Fawcett, Carrie Fisher, and Patton Oswalt; then groped Mandy Stadtmiller (and bit her?). He called a club audience in L.A. a "bunch of ni**ers" (a reference to the Michael Richards incident which didn't go over well). Let's see, what else: he couldn't keep his hands of Ivanka Trump on an appearance with Jimmy Kimmel, who had security usher him out. Jon Lovitz stated that Dick got Phil Hartman's wife back on coke, which led to the couple's death.
In 2007, Dick was busted for urinating in public. He groped nightclub patrons, slapped reporters, and was arrested in 2008 for allegedly removing a 17 year old girl's top. Last year he was arrested for groping a bartender, then groped others in Georgia. (In case you haven't figured out by now, Andy Dick likes to touch!) The AVN awards kicked him out for groping Tera Patrick and Chi Chi LaRue.
Grope, grope, grope! We are quite sure that Andy Dick's groping days aren't over. But we know how he can make it work for him – a new series on HBO called "The Groper". Just pay the guy in drugs and alcohol.


Amy Winehouse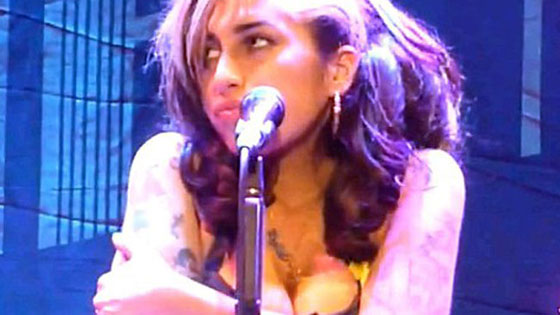 Singer Amy Winehouse is known for her contralto voice but she's also famous for her drug use and the fact that she's completely out of control. Winehouse had already admitted to her troubles with depression, eating disorders, and self-abuse. In the mid 2000s, she went on a drinking/drugging binge that led to visible weight loss, punctuated by violent mood swings. In 2007 she overdosed on heroin, ecstasy, cocaine, ketamine and alcohol (nothing like giving it your all).
That year, Winehouse had married Blake Fielder-Civil, a video production assistant and all-around piece of trash. There's a photo of the couple hanging out in London looking like they beat the shit out of one another. Hubby Blake said in an interview that he introduced Amy to crack and heroin. He also said they liked to cut themselves. Classy. The couple have been arrested for pot possession, and the tabloids got a video of her smoking the crack. The couple divorced in 2009. Now, Winehouse insists she is drug free and has put her troubles behind her. Fingers crossed.

Charlie Sheen



Sure, Charlie Sheen is like a lot of Hollywood celebrity trainwrecks in that he's a drug user, porn star collector, and occasionally violent personality. What makes him special is his egomania. Here's a guy who knows what he is, who embraces what he is, who says "you wish you were me. too bad you're not!"
As we have said, Charlie Sheen has a troubled history. He once held a knife to his soon-to-be-ex-wife's throat. He OD's on cocaine in 1998. He accidentally shot his former fiancée Kelly Preston in the arm once (that ended the relationship real quick). And he has a thing for porn stars. Recent events saw him going on some drunken, coke-related rampage against Capri Anderson in a NYC hotel, with his kids nearby. He had relationships with adult film stars Ginger Lynn and Heather Hunter in the past. Currently, he lives with porn star Bree Olson and model/designer Natalie Kenly, both of whom he calls his "goddesses." On Howard Stern, he said that he has to decide whose bed to sleep in every night.
But the clincher for Charlie Sheen is his latest rants, mostly which go against CBS and the creators of his TV show Two and a Half Men
. But he also has dropped some choice lines, like:
I am on a drug. It's called Charlie Sheen. It's not available. If you try it once, you will die. Your face will melt off and your children will weep over your exploded body.
I probably took more than anybody could survive. … I was bangin' seven-gram rocks and finishing them because that's how I roll, because I have one speed, one gear. Go!
I have a different constitution, I have a different brain, I have a different heart. I got tiger blood, man. Dying's for fools, dying's for amateurs.
It's perfect. It's awesome. Every day is just filled with just wins. All we do is put wins in the record books. We win so radically in our underwear before our first cup of coffee, it's scary. People say it's lonely at the top, but I sure like the view.
[Porn Stars] They're the best at what they do and I'm the best at what I do. And together it's like, it's on. Sorry, Middle America. Yeah, I said it.
On how he cured himself of addiction: "I closed my eyes and made it so with the power of my mind, and unlearned 22 years of fiction … the fiction of AA. It's a silly book written by a broken-down fool." ("The Today Show.")
I'm tired of pretending I'm not a total bitchin' rock star from Mars, and people can't figure me out; they can't process me. I don't expect them to. You can't process me with a normal brain."
The latest news in the celebrity scandal world is that Charlie Sheen was fired from Two and a Half Men. His response was to wave a machete around and go into a profanity laced rage on his UStream. Tiger blood!
Continue Reading – Entries 1 through 5