Page 2
Entries 1 through 5


Mel Gibson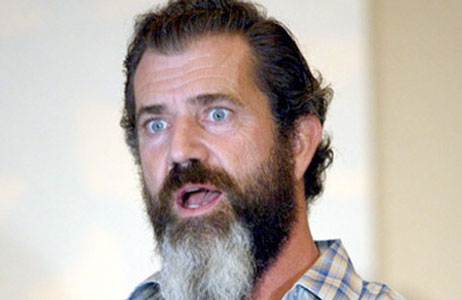 We all loved Mad Max
, sure. But we knew something was up when he released his bizarre S&M/12-hours-of-Jesus-torture The Passion of the Christ
. Gibson is a hardcore Catholic who believes that only Catholics go to heaven. He once said that even though his wife was a better person than he was (and was an Episcopalian) she's still going to hell. Critics of Passion of the Christ said that the film was anti-semtic, something Gibson denied. However, in 2006, Mel was arrested for a DUI, during which he said to his arresting officer:
"F**king Jews…the Jews are responsible for all the wars in the world."
This just added to the other reports of Gibson being a racist and homophobe. Gibson had already admitted he was a manic depressive with a drinking problem since he was a teenager. That same year, Mel was separated from his wife Robyn after 26 years of marriage. They were divorced in 2009, right after photos came out of Mel on the beach with another lady, most likely Oksana Grigorieva, a Russian pianist. The new couple would split up in 2010, and Grigorieva even filed a restraining order agains him. There was already a report of domestic violence involving the two of them before the infamous audio recordings were released. During the taped conversations between Mel and Oksana, he can be heard saying things like:
"You should just f**kin smile and blow me! Cuz I deserve it!"
"You need a bat at the side of the head"
"I'll put you in a f**kin rose garden you c*nt! You understand that? Because I'm capable of it."
(More at Radar Online)
Just listen to his rants and try to tell us Gibson isn't a danger to everybody around him.

Britney Spears




Child star and Mickey Mouse Club member Britney Spears grew up too early. After her rise to fame, her life went through lots of changes in 2004 when she got married in January, annulled it, got hurt in June, got engaged to Kevin Federline in July, married him in September, and had a son the year after. There were already rumors that she had cheated on previous boyfriend Justin Timberlake, who wrote the song "Cry Me A River" about her. She responded with "Everytime". (An interesting way for pop stars to duke it out – constantly release songs about one another).
She was constantly hounded by paparazzi, and portrayed as a bit crazy in the media, like in 2006 when pictures of Spears driving with her infant son on her lap showed up in the press. After the birth of her second child, things with K-Fed went sour, and they were soon divorced. Soon after, Britney's drug problems and breakdown became obvious. After going in and out of rehab, she shaved her head bald, attacked paparazzi with an umbrella, staged a comeback through an MTV performance that was not well received, then in early 2008 she loses custody of her kids to K-Fed.
The good news is that once you hit bottom you can only go up. Her new album Femme Fatale
will be released at the end of March 2011.

Paris Hilton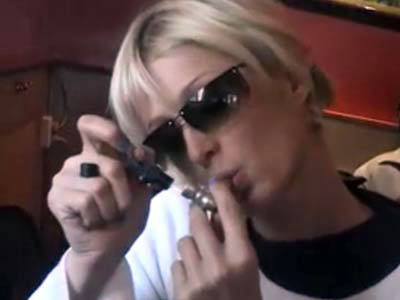 It may be impossible for Paris Hilton to stay out of the spotlight, although she has done a much better job as of late. But the rich socialite and heir to the Hilton Hotel fortune is a magnet for trouble. At 19 years of age, she was kicked out of boarding school. That was just the opening act. In 2003 a sex tape featuring her and boyfriend Rick Salomon surfaced (and would later make it to DVD). A website in 2007 exposed personal items from a storage locker which included another sex video (with Joe Francis) and some personal medical items (Paris' wild nature does not come without "baggage").
In 2006, Hilton was charged with a DUI, and was involved in other driving violations the next year. She was sentenced to jail for 45 days for probation violation. (At the time there was a lot of "will she/won't she go to prison" media stories about it, as judges had a back-and-forth with police over her sentencing).
Yes, Paris Hilton is well known for her "spoiled princess" attitude, wild behavior, occasional outbursts of racism, drug use, nude photos, sex videos, silly pop albums, key phrases ("That's hot"), reality TV shows, and all-around Paris-Hilton-ness.

Tiger Woods




Who would ever have expected super golf pro Tiger Woods, with a beautiful model blonde wife Elin Nordegren, to end up on this list? The guy was at the top of the world, winning tournaments, becoming the world's highest-paid professional athlete. Then in November 2009, everything went to hell in a handbasket.
The National Enquirer, which broke the story about the John Edwards affair, also broke a story about Woods having an affair with Rachel Uchitel, a NYC club manager. She denied the story. But a few days later there was a car accident near Woods' Orlando home, involving his SUV, a fire hydrant, and a tree. Rumors say that his wife Elin may have gone after him with a golf club.
Perhaps things would have ended there. But then the Us Weekly released an interview with Jaimee Grubbs, a cocktail waitress, who said she had an affair with Woods for over 2 years. She backed it up with voice messages from Woods:
"Hey it's Tiger, I need you to do me a huge favor. Can you please take your name off your phone? My wife went through my phone…You got to do this for me. Huge. Quickly. Bye."
The dam was broken. Now came the onslaught – when it was over, 12 women had come out of the woodwork, claiming affairs with Woods. The list of Tigers women are: Rachel Uchitel, Jamie Grubbs, Kalika Moquin (Las Vegas club promoter), Jamie Jungers (Vegas model), Mindy Lawton (Orlando waitress), Cori Rist (NYC model), Holly Sampson (porn star), Joslyn James (porn star, who said she had an abortion), Loredana Jolie (Playboy model and callgirl), Julie Postle (another Orlando waitress), Theresa Rogers (Florida "cougar"), Raychel Coudriet (his 21 year old neighbor, whom he had a one night stand with in his office).
After admitting his infidelity, Tiger took a hiatus from golf.
Not only did all of this lead to his divorce (apparently, Raychel Coudriet was the last straw for Erin, even after Woods admitted having affairs with 120 women!), but his endorsement deals started dying in fires. Woods was dropped from his lucrative contracts with Accenture, AT&T, Golf Digest, and Gatorade. The settlement with Erin Nordegren is reported to have cost Tiger $100 million.


Lindsay Lohan




Lindsay Lohan was another child star who had successes in TV commercials, modeling, and movies like Disney's The Parent Trap
, Mean Girls, Freaky Friday
. Things started going wrong in the mid 2000s. Her breakup with her boyfriend caused problems on the set, but there was also the tendency for Lohan to party a little too hard. She started going to AA meetings in 2006. In 2007, she went to rehab for a month. Lohan was replaced on a few productions due to her erratic, unprofessional behavior.
In May 2007, Lohan was arrested for a DUI, in which cocaine was found in her car. She went back into rehab for 45 days. The producers of the film Poor Things took pity on her and halted production until she could get better. However, she was arrested for another DUI and this time the cops found cocaine on her person instead of the car. Ah well, back to rehab. Dropped from the production, she was also awarded a Razzie for her performance as a stripper in I Know Who Killed Me
.
Lohan later admitted "it is clear to me that my life has become completely unmanageable because I am addicted to alcohol and drugs." In the modeling world, Lohan has been criticized for her nude spin on Marilyn Monroe's final shoot. Her relationship with Samantha Ronson led to speculation that she was a lesbian. In 2010, she was cast to play infamous adult-film star Linda Lovelace, but due to insurance issues, she was dropped from the film. (Lots of problems in the industry stem from the inability to insure her). Lohan was sentenced to jail for violating the terms of her probation and served a short term, then went to rehab again (her life is starting to look like Groundhog Day
). After spending 3 months at the Betty Ford clinic, Lindsay was busted for felony grand theft (a neckace worth over $2 grand was stolen from a jewelry store).
From drugs to theft? We have a feeling this is a slow motion celebrity trainwreck in progress.
Start Reading From Beginning