Want to know what happened to your old social networking sites? Here's the "Where Are They Now" segment of social networking sites like Bebo, Hi5, Orkut, etc.
MySpace
Taken over by News Corp (Rupert Murdoch, same guy behind Fox News)
Beaten down by Facebook, MySpace was converted into an "entertainment" site earlier this month.
It still gets about 60 million views per month
You can still put your crappy band on it
Rumors say News Corp is looking to sell it, Rupert not being a big fan of crappy bands, we guess.
Update! Hurting from losses (of subscribers and revenue), News Corp finally sold MySpace to Specific Media for paltry $35 million, much less than the $580 million they paid for it. Rupert Murdoch referred to the purchase of MySpace as "a huge mistake."
Justin Timberlake, who has an ownership stake in Specific Media, announced the "new" MySpace in September 2012. At midnight, January 13, 2013, the new version of Myspace entered its open beta phase.
Classmates.com
Still trying to charge people for crap that you can get free on Facebook
Run by United Online, which says they have 60 million views and 5 million paid accounts
Wants to throw up yearbooks so you can more clearly remember how awful your high school days were. Also wants to add movie posters, album covers, vintage mags, etc. Those things are not available through Google image search, so don't even think about looking there.
Wants to reposition itself as a "nostalgia" company. Says United Online's CEO Mark Goldston:


"I am encouraged by our progress managing the transition at Classmates.com to increasingly focus on nostalgic content. In a matter of months, we have made major enhancements to the website that now showcases a large compilation of nostalgic content including high school yearbooks, movie trailers, music tracks, and photographic images."

Was the subject of a lawsuit involving fraudulent emails ("Hey, your former classmate wants to talk to you! Give us your CC number and we can make this happen!")
Friendster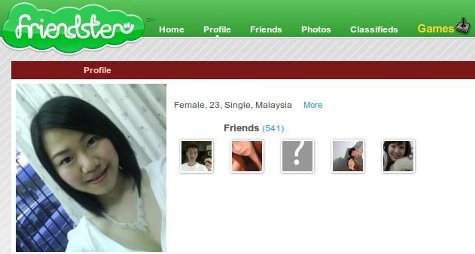 Big in Japan. (and Indonesia and Malaysia and South Korea and The Philippines, etc)
Over 90% of Friendster's traffic now comes from Asia.
Friendster was bought out by Malaysian company MOL Global. You can now be friends with a lot more cute Asian girls. If you want.
We get a lot of crap from Asia. Now Asia can have our old, crappy social networking site.
Update: In June 2011, the company turned itself into a social gaming site.
Orkut

Enjoy my interface, which is bland and basic.
Run by The Google, who is good at "bland" and "basic" interfaces.
One of the most visited websites in Brazil and India, although Facebook has just beaten it in India (thanks in part to apps like Farmville and Mafia Wars). So brush up on your Portuguese.
Reading the messages in the Communities section is like stumbling into AOL chatrooms.
Orkut also gained great popularity in Estonia. We have no idea why. But we have heard that "orkut" is a slang term in Finnish for "orgasm." But Finnish is not the same as Estonian, even though they are close. We could talk about this for hours, it is so interesting.
In August 2008 Google announced that Orkut would be fully managed and operated in Brazil, by Google Brazil, because of the huge Brazilian user base.
Bebo
Reminds us of Orkut.
Yawn
On April 7, 2010 AOL said they were going to sell the site. Something about Bebo users figuring out that Facebook and Twitter were good, and Bebo was crap.
On June 16, 2010, AOL sold Bebo to Criterion Capital Partners, some hedge fund dudes. The price was reportedly under $10 million, while AOL originally paid $850 million. AOL can't do anything right.
Bebo still has a strong user base in the UK. Jolly good, that.
In May 2013, the company filed for Chapter 11 bankruptcy protection. Maybe they just should have filed Chapter 7.
Hi5
Popular in Latin America, Portugal, Mongolia, Romania, Thailand, Central Africa, and Jamaica. Well, we're glad they like it, anyway.
Going gaming: Hi5 wants to move its focus to social gaming.


"hi5 is trying to tap the large, growing market for virtual goods, expected by analysts to be worth more than $5 billion globally in 2010. The move also underscores the growing popularity of Facebook and Twitter"

Huzzah for more virtual farms.

In December 2011, Tagged (another social network site) purchased Hi5 for an unknown sum
LiveJournal
A blog/journal/social networking site, LJ was big for awhile until all the emo people figured out they could write journal entries about their sad lives on Facebook, too.
Now it's gone Russian – even president Dmitry Medvedev opened an LJ account!
In 2005, was bought by Six Apart. In 2007, they sold it to SUP, a Russian media company.
In early 2009, LJ laid off some employees based in San Francisco and moved a lot of their development to Russia.
Feel free to blog about your sadness that Putin is taking Russia back to a dictatorship.
You can better express your depression if you write it in Cyrillic.