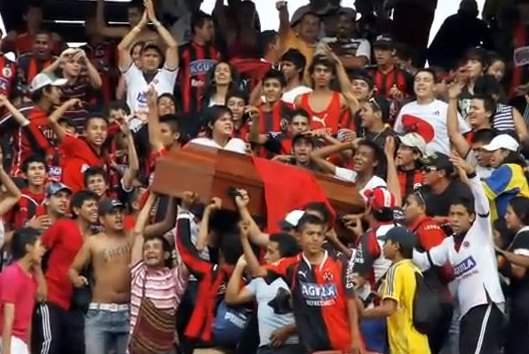 True soccer fans never let anything get between them and their soccer games. Even if they die.
17 year old Christopher Jacome was murdered – shot to death – while playing soccer in a park in the country of Colombia. Jacome belonged to a soccer fan club called Barra del Indio, which has been known to be an aggressive group at soccer games.
When Christopher's wake was finished, his friends in Barra del Indio took his body – and the coffin it was lying in – into the General Santander Stadium in Cucuta to watch the game between Cucuta Deportivo and Envigado FC. You can see the video below:
Video: Dead teen in coffin taken to soccer game in Cucuta:
Colonel Alvaro Pico, a local police said that the boy's death had nothing to do with his love for the soccer team rather it was a consequence of criminal actions in the area where he lived. The event has generated controversy in Cucuta and stadium officials will hold a meeting to find out who permitted the entry of the cadaver and what punishment will be given.
Source: Colombia Reports
By the way, the game ended in a 1-1 tie.