Donk = 150BPM rave music, with some rapping over it. Popular in Northern England, it is probably best represented by The Blackout Crew.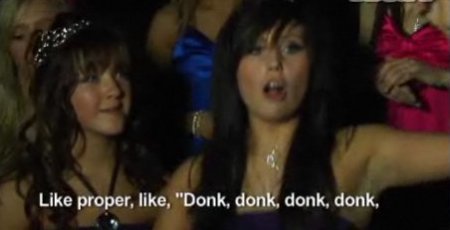 Here's a vid for "Put A Donk On It":
About Bolton:
Bolton is a large town in Greater Manchester, in the North West region of England. It is the largest and most populous settlement of the Metropolitan Borough of Bolton, the former county borough of Bolton has a population of 139,403,though this figure does not include the many now abolished "urban districts" of Bolton such as Harwood,Egerton or Bromley Cross. These areas are however included in the borough population which is 262,500.
We suppose that "Donk" is the Manchester equivalent of Crunk down here. We like how you can improve any kind of music by "putting a donk on it!" However, it doesn't sound like a new style to us – just some more weird noises added to happy-hardcore, rave, trance, and gabber music.
What? Hang on a second folks, we have just been informed that "Donk" is really "Scouse House", which is described as "bouncy techno". So it's not happy hardcore. There, it's settled.