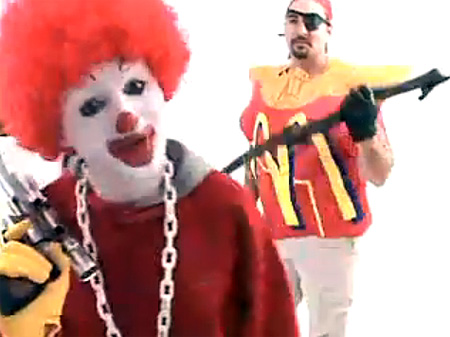 Source: Deseret News:
Spenser Dauwalder, an 18 year old Lone Peak High School student, went to a local McDonalds (in American Fork, Utah) with friends and they rapped their order over an iPod recording. His creativity landed him in a courtroom.
The restaurant manager told police that as the teens drove away that night, Dauwalder yelled at her, "I hate this (expletive) McDonald's anyway." Prosecutors said he "acted in an angry, threatening, tumultuous manner" and sped recklessly out of the parking lot. The manager testified that she felt threatened and was initially afraid the teens were following her in the car. "That's why I called the cops. I don't care that they were rapping," she said.
One police officer called the song creative. Dauwalder was found not guilty of disorderly conduct. It was argued that even if the F-word was used, it does not constitute disorderly conduct. The judge agreed.
It would appear that there are lots of "Mickey D Rappers" out there.
There's nothing more American than McDonalds, and rap. And now we get a double-dose! We would pledge allegiance, if we could rap it.
Are you hungry?