Check out these controversial political billboards that have attracted criticism.
Bohemian Grove Billboard
Location: I-75 near Georgia/Florida border
Message "Google : 1. Bohemian Grove, 2. Building Seven, and find out what is going on right under your nose. What kingdom will you serve? Darkness, or the true light of Jesus Christ? Our nation needs your prayers."
Weird. The conservative Christians supported George W. So why would they embrace conspiracy theories surrounding an event that happened under his watch?
Please Don't Vote For A Democrat
Location: Orange County, Florida
Message: "Please don't vote for a democrat."
Pre-2008 election. The "republican song" was written and performed by a guy named Mike Meehan, who gives props to Sean Hannity, Mike Huckabee, Glen Beck, Fox News, and Rush Limbaugh on his web page.
George Bush – Our Leader
Location: Orlando, Florida
Message: "George Bush: Our Leader"
Circa 2004, after Iraq invasion. It is a "political public service message brought to you by Clear Channel Outdoor." Creepy in that Orwellian way.
Barack Hussein Obama
Location: Highway 63 near West Palins, Missouri
Message: "Barack Hussein Obama equals more abortions, same sex marriages, taxes, gun regulations."
Pre-2008 election. Notice the use of quotes to emphasize Hussein. The turban is a nice touch.
President or Jihad? / Where Is The Birth Certificate
Location: Wheat Ridge, Colo. car lot
Message: "President or Jihad? Birth Certificate: Prove it. Wake up America! Remember Ft. Hood!"
Talk about controversial political billboards! Multiple messages in this sign, first expressing the idea that Obama is a "secret Muslim" and second that he was not born in the U.S. Located on the lot of Wolf Leasing Internet & Sales, it's the work of Phil Wolf, the owner, who has created other billboards in conjunction with talk radio host Peter Boyles and the website World Net Daily, mostly about Obama's birth certificate.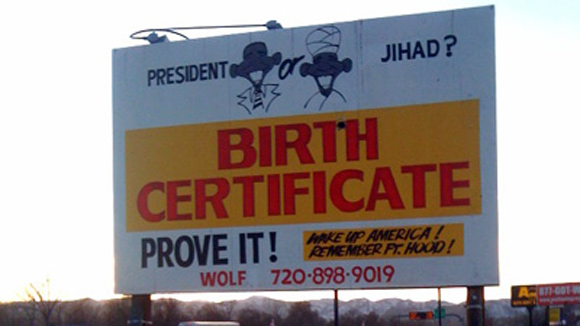 Obama-Nation
Location: I-70, Blue Springs, MO
Message: "How do you like your change now? Obama-Nation. They are coming for you! The Taxpayer. 1st & 2nd amendments are in jeopardy. Live Free Or Die"
Notice the hammer and sickle. Not exactly subtle. Owner of billboard unknown, but apparently the Lafayette County Republican Central Committee liked it.
Democrat, Nazi, Marxist
Location: Mason City, Iowa
Message: "Democrat Socialism, National Socialism, Marxist Socialism. Radical leaders prey on the fearful & naive."
Controversial billboard featuring Obama with Hitler on the left and Lenin on the right. Created by the North Iowa Tea Party. After numerous complaints, they took the billboard down.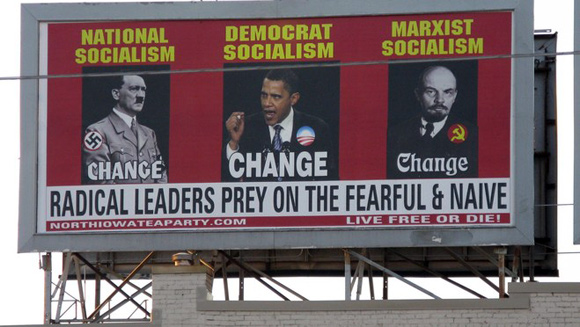 George W Bush: Miss Me Yet?
Location: I-35 near Wyoming, Minnesota
Message: "Miss me yet?"
The billboard was supposedly paid for by a group of anonymous business owners.
Voted For Obama: Embarrassed yet?
Location: East Texas
Message: "Voted Obama? Embarrassed yet?"
Created by "E.M. Citizen" AKA Ellis Miller of Gilmer, Texas, who is a retired doctor.