On January 31, 2007, authorities found 9 blinking electronic devices that were planted at bridges and other spots in the city of Boston. This threw the city into a panic. Were they terrorist bombs? Nope – it turns out that they were part of a marketing campaign centered around Cartoon Network's Aqua Teen Hunger Force
. The devices meant to cleverly advertise the animated film Aqua Teen Hunger Force Colon Movie Film for Theaters
scared the crap out of Boston commuters. At least one of the devices depicts a character (Ignignokt or Err) flipping the bird. This event came to be known as the Mooninites Boston Bomb Scare.
Highways, bridges and a section of the Charles River were shut down and bomb squads were sent in before authorities declared the devices were harmless. "It's a hoax—and it's not funny," said Gov. Deval Patrick. Turner Broadcasting, parent company of Cartoon Network, said the devices were part of a promotion for the TV show Aqua Teen Hunger Force. "The packages in question are magnetic lights that pose no danger," Turner said in a statement.
Source: Breit Bart
The first device was found at a subway station near I-93, forcing the shutdown of the station and the interstate. Other devices were found at the Boston University Bridge, the Longfellow Bridge, a street corner, and the Tufts-New England Medical Center. What's amusing about this incident is that in the lead-up to the ATHF movie, these "devices" had already been put in place for weeks in 9 other cities, including New York, Los Angeles, Chicago, Atlanta, Seattle, Portland, Austin, San Francisco, and Philadelphia.
In case you weren't aware, the television show Aqua Teen Hunger Force concerns a talking milkshake (Master Shake), talking box of fries (Frylock) and a talking meatball (Meatwad). The cartoon also includes two trouble-making, delinquent characters from the moon who call themselves Mooninites – named Ignignokt and Err – drawn as 1980s-era video game sprites (with 80s-era bleeps and blips to match).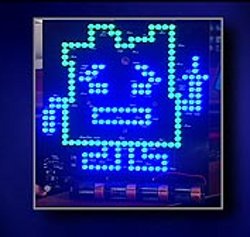 At the time, these "devices" reminded us of Lite Brite. Remember that?
The Mooninites Boston Bomb Scare is a good example of that Post-9/11 daze. It shows the paralyzing effects of fear on a population. (Although a guy on CNBC said this kind of thing wouldn't have happened in New York City.) This was great advertising for the movie, though. (No such thing as bad press, and all that).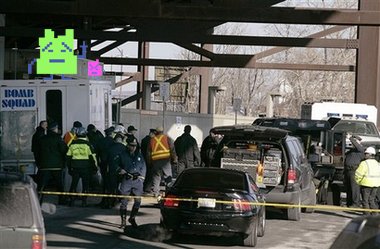 The moon-men threat was a creation of freelance artists Peter Berdovsky and Sean Stevens. Both Berdovsky and Stevens were arrested and faced charges of "placing a hoax device in a way that results in panic", as well as one count of disorderly conduct.
Massachusetts Attorney General Martha Coakley said:
"It had a very sinister appearance. It had a battery behind it, and wires."
The reaction was shared by Boston Mayor Thomas Menino, who said
"I just think this is outrageous, what they've done … It's all about corporate greed."
Boston Police Commissioner Edward Davis said:
"In the environment nowadays … we really have to look at the motivation of the company here and why this happened."
Was the motivation of Turner Broadcasting to cause chaos, confusion, and terror, all in the name of promoting a talking milkshake, fries, and wad of meat?
Here's a video of the guys from the Glitch Crew (of which Peter Berdovsky is a part) setting up the displays:
The Glitch Crew worked for Interference Inc., which did guerrilla marketing campaigns.
Here's a clip of the press conference held by Berdovsky and Stevens at the time. Their lawyer said they weren't going to discuss the case, so the pair decide to discuss 60s and 70s hair. The mainstream media, oblivious to the fact that they are being insulted, stick around:
The pair ended up having to perform 140 hours of community service and issue an apology:
I deeply regret that this incident caused such anguish and disruption to so many people… I had no intention of upsetting or alarming anyone.
In return, prosecutors dropped all criminal charges.
Source: Wired
As for the movie, it ended up grossing $5.5 million dollars, a very small sum these days but still a profit for the studio, since the film's budget came in at under a million dollars. (source: IMDB)