September 2008: Sad news: the Coney Island Theme Park Astroland will shut down after 46 years of fun.
Last year, the city announced a redevelopment plan for 47 acres of the Brooklyn seafront, which includes the 3-acre parcel that Astroland sits on. Carol Albert — whose family has owned the rides by the Brooklyn boardwalk for almost a half century — is permanently closing the park. For years, the future of the outer space-themed park built in 1962 has been the focus of bickering among Thor Equities, which owns 11 acres of the seaside property, ride operators and city officials, with the Albert family threatening to shut it down.
"I have given up on trying to get Thor to negotiate which I have attempted to do every month since June, and numerous times in August. Each time their response was, 'We have no answer,' she said. "The safety of our customers and our commitment to employees means our time has run out. Ride parts must be ordered a minimum of eight to 10 months in advance. My employees cannot live in a state of limbo any longer. It takes six months to pack up a three-acre amusement park that has been in operation for 46 years, so a January 31st deadline means start packing yesterday. We are out of time."
Thor had planned to break ground next year on a $1.5 billion complex including high-rise hotels and New York's first new roller coaster since the wooden Cyclone was built 75 years ago. Officials this year suddenly shrank the amusement zone to 9 acres because property owners — mainly Sitt — would not give up the extra tracts of waterfront for the city-proposed park. That angered community activists, who accused the developer and the city of trying to over-gentrify the so-called workingman's Riviera, where visitors can still find freak show attractions such as a fire-eater and the Human Blockhead.
(source: NBC News)
My Hazy Memory of Coney Island
I remember my dad taking me to Coney when I was a kid. Unfortunately it's been so long that my memory of it is hazy. In fact, I'm not sure if I have ever been to Astroland. My grandfather, while he was making a living as a cab driver in NYC, used to bring home napkins from Nathans. For some reason, these are the only napkins I remember my family using. I think he said they came from Coney. It seems reasonable – I don't think there were any Nathans franchises until after 1987.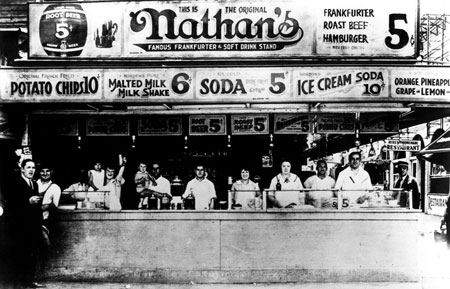 At least the Cyclone (reopening on April 5, 2009) and Wonder Wheel will still be around.
-Bill
Coney Island Web Site