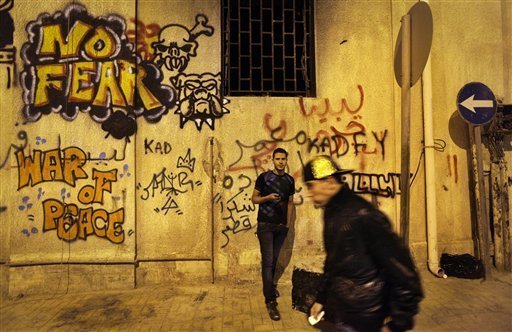 Libyan rap music is the music of choice for the Libyan rebels trying to oust Moammar Gadhafi. The music captures the anger and frustration of young Libyans of the revolution.
Some popular rap tunes on the Libyan rebels playlist include:
Music Masters – "Youth of the Revolution"
Rap group Music Masters, composed of Milad Faraway aka Dark Man (20), Mohammed Madani aka Madani Lion (22), and Rami Raki aka Ram Rak (24), wrote this song in February, right after the start of the uprising
Sample lyric: Moammar, get out, get out, game over! / I'm a big, big soldier!
Revolution Beat – "17 February"
Revolution Beat features Mutaz al-Obeidi (23), Youssef al-Briki aka SWAT (24), and Islam Winees aka A.Z. (21).
Sample lyric: Gadhafi, open your eyes wide and you will see that the Libyan people just broke through the fear barrier
Roughly a dozen rap songs recorded since the start of the rebellion have been put on CDs and are available for sale in downtown Benghazi. Some of the songs mix Arabic and English, a testament to the American origins of rap.
Here's a track by Libyan rappers Wael el Warfali (aka Big Well) and Mohmmed el Banone (aka Nazi)
Some lyrics:
Take your weapon, our defender / don't be like mice that hide in their holes / we are waiting for you / to free us from the worst traitor in our history

hero and friends / grandkids of Omar Mukhtar / fight for Benghazi and Libya / take out your swords and free Libya

fallen in battalions / February 17, 2011 / Benghazi, Libya
Source for this story: WFTV