Bob Rusay, the former guitarist for the death metal band Cannibal Corpse, is now a golf teacher in Arizona! On his USGTF.com profile, Rusay doesn't mention the name the band he was in, but does talk about their three albums and their tours over North America and Europe.
Golf had been a part of Bob Rusay's life as a child but then he discovered the joys of live rock gigs in high school. In 1985, he was playing guitar in a band called Satan's Angel. When the lead singer left, the remaining members (including Bob Rusay) became Tirant Sin. In 1987, Rusay found himself opening for bands like the Goo Goo Dolls.
In 1988, when Tirant Sin broke up, Rusay joined his buddies Chris Barnes and Paul Mazurkiewicz, and started Cannibal Corpse along with Alex Webster and Jack Owen. The rest was history.
Cannibal Corpse released three albums over the next 8 years and toured the world. In 1993, Rusay was fired from the band, apparently because he couldn't keep up technically with the direction the band was heading. It's said to be a sore spot with Bob, understandably. But Chris Barnes has said that Rusay was "100% the most underrated contribution to that band that there ever was."
After that, Bob Rusay married Julie Christine Hammond and had two children. With Julie's encouragement, Rusay started a career in golf. He received his teaching certification from the United States Golf Teachers Federation. He then joined Western Skies Golf Club in Gilberg, Arizona.
Rusay also mentions on his profile page that Cannibal Corpse was featured in the comedy hit Ace Ventura: Pet Detective
. Something definitely to be proud of; however, by the time the band shot scenes for the movie, Rusay was already out and guitarist Rob Barrett was in.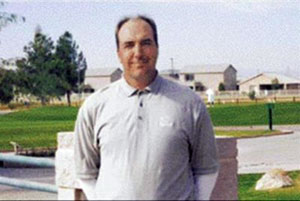 It would appear that Bob Rusay is quite happy in his new life as husband, father, and golf teacher. In addition, he has a rock and roll history to cherish and lots of stories to tell his kids. Hopefully, he's still getting residuals of some kind.