Everyone knows Weird Al. Well here's Weird Val, AKA Veronique Chevalier, the the quirky French-American cabaret artist out of Los Angeles known for hilarious parody songs. Some of these songs can be affectionately referred to as Goth Polka.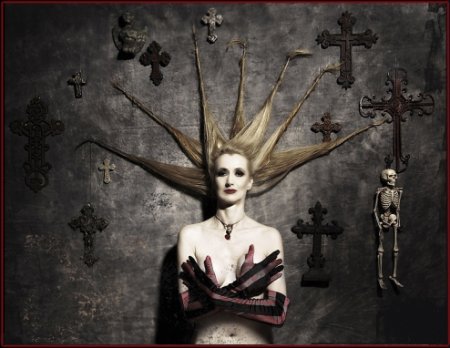 According to the website:
Mademoiselle Veronique Marie Therese Antoinette de Chevalier (formerly Cyphyre) was once the Etoile (Prima Ballerina) for Les Ballets de la Salle de Bain de Paris. Her career was tragically cut short while the company was on the Tehachapi leg of their most recent US tour, when she took an unfortunate tumble into the orchestra pit during her solo, due to a sudden blackout, caused by a drunken cowboy shooting out the headlights of the pickup truck that served as the stage lighting.

After she came to, some weeks later, she had lost all memory of ever having danced, as well as having also forgotten her native French tongue. She can now only speak in – what is considered by all who hear it – her own charming version of accented English.

Although her dancing career came to an abrupt halt, it was soon discovered that she is possessed of a distinctive singing voice, and so is pursuing this new career direction. Her memory no longer being what it once was, she has found it necessary to rewrite songs with her own lyrics in order to remember the words.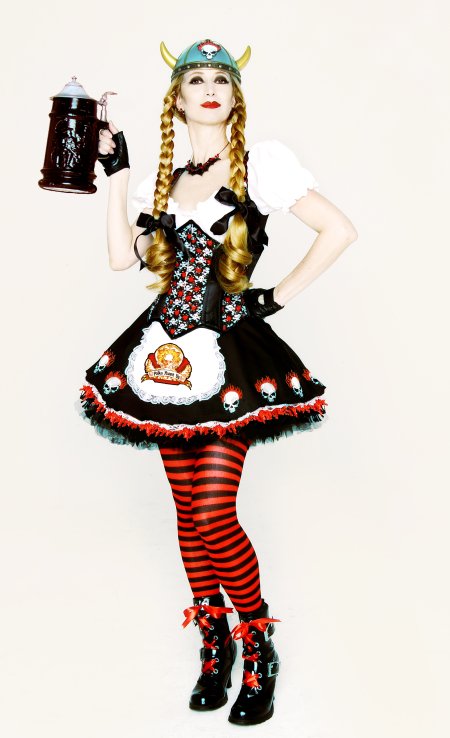 Cabaret 4 Choice
Veronique is creator, writer and executive producer of Cabaret4Choice, a theatrical performance, and CD, the purpose of which is to raise awareness about everyone's right to choose. She created and produced this award- winning project because she wanted to do something proactive to make a difference on this important issue.
Now Weird Val has released a compilation called Polka Haunt Us-a Spook-Tacular Compilation
, which delivers the very best in Gothic Polka music.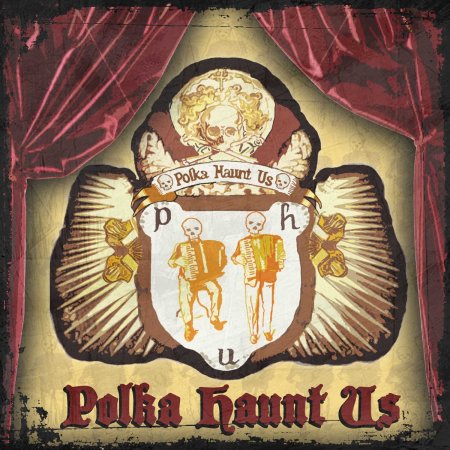 Polka Haunt Us is meant as a foray into the untried history of its namesake. Every day is Halloween to Chevalier, putting a darkly amusing, supernatural twist on the traditionally happy music of Oktoberfest. Chevalier's own 2007 "Vampire Surprise" is the bonus track on the album, which is compounded by a myriad of respected artists singing this traditional Central European faire.
Polka Haunt Us is based on authentic folk tales from around the world, lyrics written by Chevalier. Less a novelty project and more an experiment in ethnomusicology, the album is reminiscent of Harry Smith's Folkways recordings for the Smithsonian Trust, or the compilation "Songs from the Neighborhood: The Music of Fred Rogers" with a Nick Cave "Murder Ballads" twist. Chevalier's new tracks show Polka's storytelling power and give Halloween's tired Monster Mash a run for its money.
Sample tracks can be heard here
.
You can listen to polka favorites like "Beer Hall in Hell":
In Hell the beer is flat You'll soon get used to that
No bubbles in your glass Just passing sulfur gas
In Hell it's quite a brew That they will serve to you
It's made in giant vats With warts and wings of bats

and "After Wife Polka Tango":
Nicely-done funerals Cost quite a sum
The least you could've done Is given me one
But you kept cutting corners After I died
So now you are facing Your undead cut-rate bride

Awesome.