A Romney R logo was tattooed on a man's face for the sum of $15,000. Professional wrestler Eric Hartsburg is a major Republican and Romney fan. A few months back he put a listing on eBay which auctioned off space on the side of his head. The winning bidder, who remains anonymous, gave him $15K to put the "R" on his right side at the temple.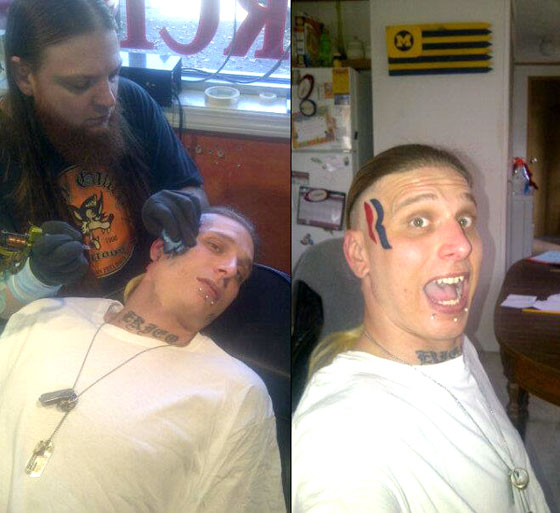 Says Hartsburg:
"I am a registered Republican and a Romney supporter. I didn't mind getting this tattoo because it is something that I could live with and it's something that I believe in. In the beginning it was done for gags and publicity, but now I see it as a way to encourage young people to vote. We have so many rights that we don't utilize and young people need to exercise that right."
Hartsburg stated that he wanted young people to realize that it was ok to be a Republican. Some people who get a look at the Romney "R" tattoo on his face feel differently – Hartsburg stated that he got a few F-bombs thrown at him. When asked if he would get an Obama tat, he said no. Currently, he is auctioning off space on his forehead.
More at ABC News