Yes, I am glad the Olympics are over because now the real competition can begin. I'm talking about Netflix's own world championship tournament and it's not in Beijing. It's in Times Square.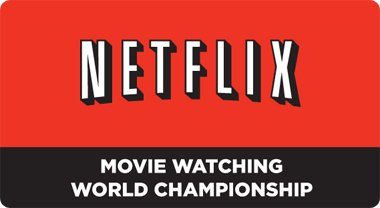 8 Contestants, 56 Movies, 121 Hours, and the Guinness World Record on the Line
The Popcorn Bowl
Hosted by Netflix, the movie watching marathon that some are calling The Popcorn Bowl will begin on October 2nd in New York's Times Square and is expected to last until a new Guinness World Record, for most consecutive hours spent watching movies, is set.
At stake is a $10,000 cash prize, a lifetime subscription to Netflix, and the first-ever Popcorn Bowl trophy.
The Netflix Movie Watching World Championship challenges contestants to watch a continuous run of movies in an effort to eclipse the existing world record of 120 hours and 23 minutes held by Ashish Sharma of Mathura, India. (Mr. Sharma will be on hand to defend his title.)
The event will begin at 10:30 a.m. Eastern time with competitors assuming their positions in the Netflix Movie Watching Arena, a plexi-glass living room in the center of New York's Times Square. Passersby will have ample opportunity to cheer on or watch in wonderment as each competitor creatively and, towards the finale, desperately attempts to stave off sleep.
A List of the Competitors
| Name | Photo | Country | Description |
| --- | --- | --- | --- |
| Ashish Sharma | | | Watched movies for 120 hours and 23 minutes in June. |
| Claudia Wavra | | | Former three-time movie marathon record holder |
| Suresh Joachim | | | Holds 32 Guinness World Records, including television viewing (69 hours, 48 minutes), dancing (100 hours), radio dj-ing (120 hours), and ironing (55 hours, 5 minutes) |
| Cheryl Jones | | | Was a part of the team of Netflix members who broke the Guinness World Record for continuous movie watching in 2003 |
| Jeff Jones | | | A Dallas movie buff who won $250,000 on the movie edition of the popular game show series "Who Wants To Be A Millionaire" in 2007. |
| Crazy Legs Conti | | | a New York-based competitive eating champion who also happens to be a cinephile with a penchant for '80s films |
The company is looking for additional contestants. You can submit a "training video" via Facebook (keyword search: Netflix Championship). The deadline for submissions is September 22.
Rules
Guinness World Records rules require the contestants to watch films non-stop without averting their eyes from the screen.
Competitors will be given 10 minutes between each movie, or approximately every two hours, to refresh themselves. (and I assume, use the bathroom)
Eating, drinking, standing and stretching are allowed as long as eyes are on the screen.
Gourmet, chef crafted popcorn will be provided by Dale and Thomas Popcorn throughout the event.
Medical professionals will monitor the contestants' conditions throughout the event and assess if contestants are truly "watching" or are simply staring blankly at the screen.
Winners will walk away with a $10,000 cash prize, a lifetime subscription to Netflix and a trophy.
I am very surprised that Harry Knowles hasn't taken an interest in this project. As far as I can tell, the man has merged with his sofa and would be a perfect candidate for the competition.
Update
Suresh Joachim and Claudia Wavra emerged as the winners of the Netflix Popcorn Bowl after 123 hours and 10 minutes of continuous movie watching. They established a new Guinness World Record for the most consecutive hours spent watching movies.
The 57 films watched included Iron Man
, Thelma & Louise
, The Bourne Identity
, Kill Bill – Volume Two
, and Caddyshack
. Susan Sarandon was also there in a show of support.