For many Japanese homeless, capsule hotels may be the only option for shelter. A "capsule hotel" is really like a cubicle or compartment, not much bigger than a coffin, which is stacked on top of another, in 2 rows per wall.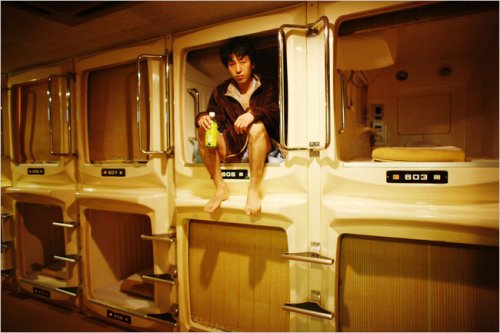 Take Capsule Hotel Shinjuku 510 in Tokyo – it's been around for a few decades now and it functioned as a last resort for business men who missed their last trains home, or budget travelers. Or maybe you just drank too much and needed a place to lie down – the 6.5′ x 5′ capsules might do the trick. But now that Japan is going through one of their worst economic downturns since the second world war, capsule hotels are becoming the only option for Japanese homeless.
Rent for an upper bunk goes for about $640 a month and includes communal bath and sauna. Capsules only have pull down privacy screens (no doors). Lockers and TVs are available.
As of 2010, about 30% of guests at Capsule Hotel Shinjuku 510 were either unemployed or underemployed. Most of the time, only men stay in capsule hotels, but Shinjuku 510 also has accommodations for women.
Japanese homeless, middle aged, and temp-job hopping younger people have also been known to stay in 24 hour internet cafes.
Source: Wikipedia, Elite choice