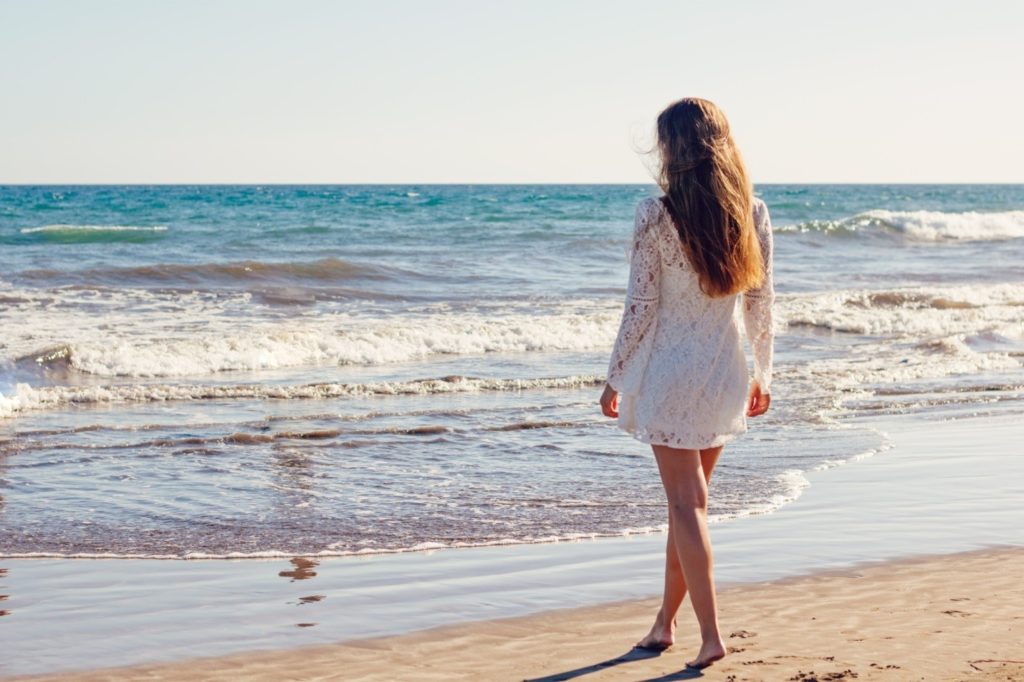 It's summertime – and the beach is calling!
Whether you love nothing more than splashing around in the waves or you prefer sipping an ice-cold cocktail on a sunbed, one thing's for sure: beach days are the best days.
That's why sporting an outfit that you feel comfortable, cute, and confident wearing to the beach is crucial.
However, with so many options, sometimes it's difficult to choose an outfit to wear! Don't worry, we're here to help. Here are our top tips on which beach outfits to rock this summer.
Opt for Fun Swimwear
While we all love a classic bikini, this summer is the time to experiment with fun swimwear! When it comes to beach vacation outfits, choosing a unique bikini or swimsuit is a sure-fire way to stand out on the sand.
Go for a bright summer bikini that will wow the crowds, or you can choose a jazzy print or pattern. A colorful tie-dye bikini is always a great shout if you want to emit a cool and relaxed vibe.
Wearing a mismatched bikini is a bold choice, and it's a beach outfit you can guarantee to be unique! Pair together fun combinations that work well together. You can mix solid colors or can go for one print and one solid. If you're feeling brave, you can even mix prints if they don't clash with one another.
Alternatively, why not rock a one-piece? Swimsuits don't have to be frumpy and today many stylish and sophisticated options are the epitome of cool.
The best part about wearing a one-piece? You can double it up as top and team it with denim shorts or a skirt, making it a versatile and easy outfit choice. No longer will you have to faff around with pulling on a playsuit or dress – pop on your chosen bottoms and head straight to the local café from the beach.
Keep Cool with a Cover-Up
It can be difficult to know what to wear to the beach, especially when you must consider the sun, sea, and sand.
A light, loose, and comfy cover-up is simply the best option if you want to feel relaxed and look cute at the same time.
Never underestimate a classic button-down shirt as a beach cover-up. It exudes simple elegance, and it's also super-easy to change in and out of!
A lightweight beach robe or kimono is also a great option and they come in tonnes of different prints and patterns. Plus, you can show off your outfit wearing one, but you can also cover up if need be. We love the flowing, semi-sheer options that are currently trending.
Feeling girly? A long, flowing, and over-sized maxi dress is the ultimate beach cover-up. Loose, breathable, and glamorous at the same time it's a versatile outfit you can take from the beach straight to the cocktail bar.
If you have a sarong, that's a great option too. After all, they're designed for the beach! They're super-easy to adjust to fit your size and comfort and look gorgeous paired with a cute crop top for instant summer vibes.
Pick a Pretty Dress
In the summertime, you can't go wrong with a pretty sundress. If you've got plans before or after the beach, then opting for a summer dress is one of the best cute beach outfits to go for.
Go for a relaxed and loose shape so you can pop it over your swimsuit as and when.
Floral dresses are always a great shout when it comes to summer and beaches, and there's certainly plenty of choice on the market.
Alternatively, go for a striped nautical pattern, so you can feel connected to the ocean as you strut down the seafront.
If you've got an off-the-shoulder dress in your summer wardrobe, this is a piece that can work well as a pretty cover-up over your swimwear on the beach. A crisp and fresh off-white style will look glamorous and chic enough to head to a fancy lunch or evening dinner post-beach lazing.
Don't Forget to Accessorize
Accessories can make an outfit, so don't forget to consider your extra outfit decoration when heading to the beach.
To protect your eyes from the shade, bringing along a hat is a wise move. A classic straw hat will ooze sophistication, or for a more casual mood opt for a sporty and stylish visor. Don't forget the sunnies either!
Likewise, a straw bag never looks out of place on the beach and is sure to match any summer outfit.
Be sure to choose your jewelry pieces carefully. As you might be swimming and spending a lot of time in the sand, it's not recommended to bring any special or precious pieces as these can get lost. Instead, opt for fun costume jewelry that's easily replaceable.
Suffering from salty locks? Use a vintage-inspired headband to pull unruly hair into an easy up-do. The retro choice of headgear will make even the wildest hair look more sophisticated.
Depending on the rest of your day's plans, choose strappy sandals or comfy flip flops to navigate around the beach. For summer shoes that are both comfortable and cute, check out Flojo sandals.
Beach Outfits to Impress
Whether you're simply spending the day lounging on the beach or planning to dance the night away on the sand, let these ideas for beach outfits serve as your inspiration. And most importantly – enjoy the rest of your summer!