Continued From Page One
Perez Hilton
This celebrity blogger (real name Mario Lavandeira) got sued for running a web site which invades Riches' privacy and puts his life in danger.
Source: Smoking Gun:
Riches states that he carried on a years-long sexual relationship with Hilton and once bought the blogger a $23,000 diamond ring. Riches is seeking the closure of Hilton's popular web site.
Britney Spears
According to Contact Music, Britney Spears got sued for holding Riches at gunpoint and forcing him to commit crimes, like the identity theft he got busted for. Also he says Britney forced him to pay for abortions, breast implants, drugs and alcohol.
Benazir Bhutto, Pervez Musharraf, and the INS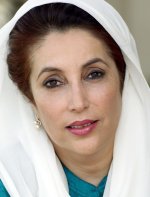 Yes, the poor woman who was assassinated is named in a suit along with Musharraf.
Source: Justia:
Plaintiff seeks a temporary restraining order against Defendants Benazir Bhutto, Pervez Musharraf, Shaukat Aziz and the Immigration and Naturalization Service (INS) to stop his extradition to Pakistan on March 2012 because he will be tortured. Plaintiff asserts that the case is one of mistaken identity and that Pakistan wants another Jonathan Lee Riches, who is an international fugitive and made nuclear weapons with Pakistan scientist A.D. Khan.
That's not all… here comes the really goofy stuff:
Barry Bonds and Hank Aaron's Bat!!!
The complaint involves Barry Bonds, baseball commissioner Bud Selig, and Hank Aaron's bat.
Source: The Smoking Gun:
Riches weaves an intricate conspiracy theory involving television ratings, steroids, the cracking of the Liberty Bell, Colombian narco-terrorists, and secretly recorded conversations for which journalists Robert Novak and Judith Miller have transcripts.
A copy of the Bonds complaint can be found here.
The lawsuit allges things like "bat assault, treason, illegal moonshine, treason (again!), stalking, illegal wiretapping, and bad debt" He requests that the court file a temporary restraining order against the broadcast of MLB games, all defendants (amd their pets!!), and is seeking 42 million dollars worth in swiss francs!
You gotta read this thing for yourself, I'm about to lose it.
Grand Theft Auto
On April 9, 2008, Riches filed a request for a temporary restraining order against Take-two (publisher of Grand Theft Auto), as well as developer Rockstar Games, FCI Williamsburg, and the game Grand Theft Auto itself, claiming that the defendants "put me in prison."
Source: Computer and Video Games:
"Defendants contributed to Plaintiff committing identity theft. Defendant's games show sex, drugs and violence which offends me." Riches continued, "Defendants put me in prison. I face imminent danger from violent inmates who played Grand Theft Auto who will knock me out and take my gold Jesus cross."
And the BIG ONE – Suing the Entire World!!!!
George Bush + 783 others!
Source: City Paper:
Here is the PDF of the document, where Riches does really intend to sue the entire world.
56 pages of nonsense naming Bush and 783 other people in a lawsuit. Who are some of these "others"? Would ya believe Plato, Nostradamus, Che Guevara, Jimmy Hoffa, "Various Buddhist Monks", the Lincoln Memorial, the Eiffel Tower, the USS Cole, the book Mein Kampf, the Garden of Eden, the Roman Empire, the Appalachian Trail, Three Mile Island, Hillary Rodham Clinton, www.google.com, Pope Benedict XVI, Kingdom of Saudi Arabia, John Deere, www.accuweather.com, Adolf Hitler's National Socialist Party, Roc-A-Fella Records, Jay-Z, Japan's Nikkei Stock Exchange, Gambino (crime family), Three Mile Island, Tony Danza, Islamic Republic of Iran, University of Miami, GEICO Insurance, Jewish State of Israel, Soledad O'Brien, Tsunami victims, The American Red Cross, Jessica Alba, Charles Moose, al-Qaida Islamic Arm, Fruit of A-Loom, Outback Steakhouse, Donald J. Trump, Chris Berman, Puff Daddy, Vince McMahon, Meals on Wheels, Saddam Hussein, Jewish workers at NBC/Universal, Elizabeth Smart, The Panama Canal Commission, Kelly Clarkston, 13 tribes of Israel, Plato, Lincoln Memorial, Boris Becker, Various Buddhist monks, Christina Applegate, Jewish Mossad, National Vanguard Books, Mein Kampf, Venus Williams, Medieval Times, Denny's, Brotherhood of the Snake, Larry King, Rastafarian natives, National Association for Stock Car Auto Racing, the Illuminati , Wu-Tang Clan, Wu Wear Inc., Nordic gods, The Da Vinci Code, Sears Tower, Mike Tyson, Native American Fish Society, Green Bay's Lambeau Field, Pizza Hut, Ming Dynasty, Barry Bonds, Gangs in Hong Kong, Grand Wizard of the Ku Klux Klan, National Hockey League Players' Association, Philadelphia Eagles (2005 roster), The Waffle House, Skittles Candy, etc…
Remember The Usual Suspects? This guy reminds me of Keyser Soze. Sitting in an interrogation room, reading billboards and making up stories… except instead of a billboard it's probably all the TV news that Riches is watching.

It's all there…and I'm tellin' it straight, I swear!
As the AJC says:
A number of Riches's lawsuits have been dismissed as being "frivolous, malicious" or failing "to state a claim upon which any relief could be granted". Willis Hunt, the U.S. District Court Judge who dismissed Riches' suit against Vick as "farcical," opined that his lawsuits were clearly self-promotional.
Well, duh. Either that or the guy is quite insane.
But I don't think he's insane. The guy is too clever and funny – to me it looks like one inmate has discovered an amusing way to pass the time in prison and at the same time get back at the system that put him in there. And since the taxpayers foot the bill, the joke's on us. We might as well laugh – we're paying for the comedy!
Bill G
Read Over From Beginning