The Maeklong Railway Market in Thailand is a very curious food market located in the province of Samut Songkhram. Also called Mae Klong Market or Talad Rom Hoop Market ("Talad" is "market", "Rom" means "umbrella" (awning) and "Hoop" means "pull down"), it's composed of stalls that are set up right along train tracks selling vegetables and other foods.
But when we say "right along the train tracks" we really mean it: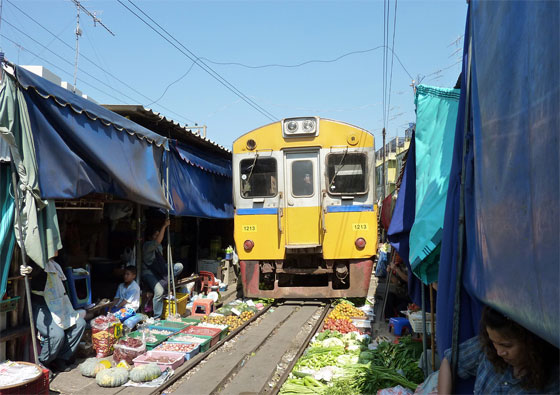 Every day, when the train comes by, vendors have to close up their canopy and wait for it to pass. Naturally, it's a popular spot with the tourists as well as locals who do their daily shopping there.
Watch this video of the Maeklong Market:
From the Hotel Club Travel Blog:
Bangkok's Maeklong Market has been in existence for decades. It remained relatively undisturbed until the later creation of the Maeklong Railway and, contrary to what you might see in the United States and in other parts of the world, there was no eminent domain law forcing market vendors to move.
So basically, they built a train system right through the food market but the market vendors didn't want to leave. So they didn't. Instead, they improvised.
The Maeklong Railway Market starts early and goes late. Locals take a ferry across the Maeklong River to shop there. The train runs through it 7 or 8 times a day. The Railway itself opened in 1905. The market looks cool but we wonder how dirty those veggies are gonna be after the train runs over them!
For more info on visiting this interesting place about 70 kilometers from Bangkok, see Nomadic Notes. More awesome photos at Tourism Thailand.