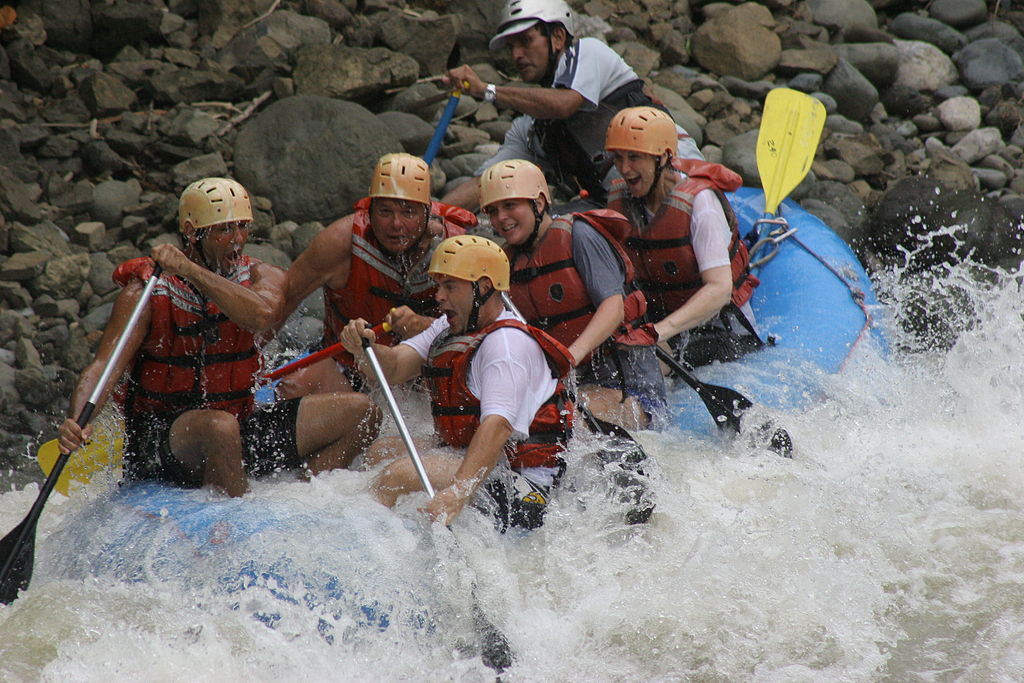 Looking to go on an active vacation in Central America, but worried about a lack of comfort and amenities?
Costa Rica is among the best countries in the region on both these points, as its tourism industry has honed its customer service skills over many decades.
As a result, Costa Rica all inclusive vacation packages for families are widely available, so you and your clan can relax in comfort and during your down time.
When the time comes for action though, the following outdoor activities in Costa Rica will satisfy your appetite for adrenaline, and have you planning your return trip in your head before you have even departed for home…
1) White water rafting
In the Costa Rican interior, there are no less than six rivers that are swollen by the abundant rainfall that drenches the mountains of the interior year round (even when the Pacific Coast is in its dry season, precipitation from the Caribbean remains plentiful).
Each one has differing degrees of difficulty, making it easy to find one that suits the skill levels of the paddlers in your travel party.
If you have novice paddlers, the calm of the Corobicí will allow you to appreciate the wildlife (which include sloths, one of Costa Rica's most famous animals) that can viewed along its shores, while the Pacuare offers thrilling roller-coaster rapids and overnight camping opportunities for those looking for a true adventure.
2) Surfing
With a lengthy coast on both the Pacific and Caribbean sides, there are numerous seaside towns in Costa Rica where those looking to pick up the world's chillest sport can do so under the tutelage of skilled and experienced instructors.
The province of Guanacaste is home to some of the nation's best spots, with Witch's Rock receiving critical acclaim from experts, and the beach resort town of Tamarindo scoring highly among those looking to learn in a safe, full-service environment.
Further down the coast, Jaco is the perfect place for those looking for a bumping nightlife scene after a day of wave carving, while over on the quieter Caribbean side, Puerto Viejo offers a legendary surf break known as Salsa Brava, which is known for its multi-peaks and the heaviness with which it crashes.
3) Zip lining
Always wanted to soar high above the treetops of one of the most biodiverse jungles on Earth? There are plenty of opportunities to do this throughout Costa Rica whether you are staying in Limon or Jaco, but the best action can be found in the lofty cloud forests of Monteverde.
In this verdant paradise, you can fly longer and faster through some of the most picturesque nature that this country has to offer.
4) SCUBA diving
The diversity of nature in Costa Rica doesn't stop once you reach the coastlines … beneath the waves, the coral reefs teem with a rich variety of fish life that you wouldn't ever expect to see, until you slap on a wetsuit and SCUBA tank and head down there.
Many excellent dive spots can be found in Guanacaste, but those looking for a truly epic adventure should hop aboard a liveaboard diving expedition to Cocos Island.
This wild place sits well off Costa Rica's Pacific coast, about 550 kilometres from the mainland, and has dives so incredible that it led legendary oceanographer Jacques Cousteau to dub the isle as being home to some of the best diving in the world.
5) Trekking
If the thought of doing any of the above mentioned sports makes you tired just reading about it, then perhaps a simple walk in the hills and rainforests of Costa Rica would be more your speed.
Whether you find yourself amidst the misty mountain tops of Monteverde, or forging deep into the rainforest in search of the mystical powder blue river known as Rio Celeste, you can go at your own pace.
If you want to test of physical limits, pick a steep trail and forge on ahead to the best of your ability. If you want to absorb the sights and smells of your surroundings, go ahead and putter along – it's your journey after all.