Brazilian-born Elaine Davidson, 46 years old, is the world's most pierced woman. She has 6,725 piercings covering her entire body (as of March 2010). And just recently, Elaine Davidson got married in Edinburgh, Scotland to Douglas Watson, a glasses-wearing, 60-something civil servant with no piercings whatsoever.
The world's most pierced woman wore a white wedding gown, tiara, and green face-paint with 192 piercings on her face alone. Every few years, Guiness World Records sends an official to re-examine her and everytime, she has more and more piercings. Davidson runs Tropical Rainbow, a place that deals in aromatherapy.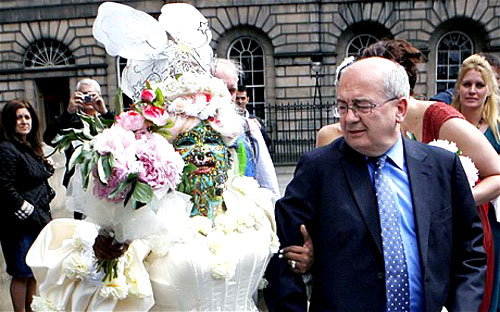 Said new hubby Watson:
"People see the piercings but I see the amazing personality underneath. We have known each other for a long time. We met in a coffee shop in Glasgow 15 years ago and got chatting. We connected straight away and have been together ever since. I am always amazed by the effect her piercings have on people. She's an incredible woman. People think its unconventional but that is the woman she is and people love her for it."
Source: UK Telegraph
Note: the Telegraph reports that the former nurse has 6,925 piercings now.