Kano was a post-disco music project formed in 1979 by Italian-based producers/musicians Luciano Ninzatti, Stefano Pulga and Matteo Bonsanto who helped usher in a style of dance music called Italo-disco, a blend of 1970s disco and funk with the addition of synthesizers made by artists and producers in Italy.
The project was unofficially known for being the first group to incorporate a new instrumental trend of electronics and synthesizers (including a module known as the Vocoder) with certain elements of funk to the evolution of dance music,. Kano was first heard on radio stations and in dance clubs around the world with their debut hit single, 1980's "I'm Ready", from their self-titled debut album (which also included the minor hits, "It's a War" and "Cosmic Voyager").

Post-Disco, Italo-disco, Electro, Electro-Funk… whatever label you want to give it, this spaced-out single from Italian producers Luciano Ninzatti, Stefano Pulga, and Matteo Bonsanto, is disco, funk, and future sounds rolled up into one. Bouncing from a bass-infused classic-disco sound to strange electro beats and synths, it also moves between soul-infused vocals and ones given the robotic filter treatment. It's what you might hear if robots were raised in underground discos instead of labs. By the way, the instrument used in the song to filter the vocals is called a Talk Box (used by Roger Troutman, Peter Frampton, etc). (*Note: This may be wrong – many are saying they used a vocoder. See comment below). I'm Ready
certainly isn't the beginning of Italo-disco (Giorgio Moroder
, Cerrone
, and French act Black Devil
got the ball rolling), but it certainly gave it a huge push. Not to mention the influence it had on break-dance culture. I'm Ready basically represented so clearly the transformation of disco (which was in its death throes) into electro, techno, and hip-hop. It's the evolution of dance music at work. You probably already know some of the track – Tag Team's Whoomp! (There It Is)
sampled it all over the place. I also tend to hear the rolling-bassline sample in DJ mixes.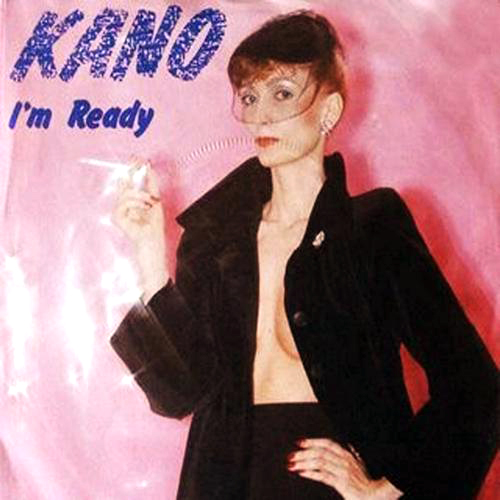 "I'm Ready" became an instant classic and peaked at #21 on the Black Singles chart.
"It's a War" was also a big hit on the Hot Dance Music/Club Play chart in the U.S., peaking at #2 for five weeks.
The project went on to record two other albums, including 1981's New York Cake
(which included the minor hits "Don't Try to Stop Me", and "Can't Hold Back") and 1983's Another Life
(including the title track and "I Need Love") which introduced West Indian-born singer Glen White. Their last song was 1985's "This Is the Night".