With the recent disclosure of perjury charges against Kwame Kilpatrick, the infamous mayor of the city of Detroit, we would like to point you to the direction of that city-owned house of fun – the Manoogian Mansion.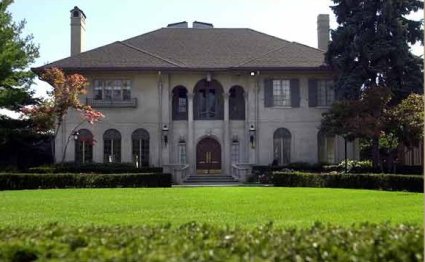 Located on Dwight Street in the Berry Subdivision Historic District, it was built in 1928 for $300,000, but the owner lost the home during the Depression. Masco Company founder Alex Manoogian purchased the home in 1939 and donated it to the city in 1966. The mansion is in Spanish Colonial Revival Style with a terra-cotta tile roof. It has approximately 4,000 square feet, and is dominated by walls of windows that open onto a spectacular view of the Detroit River. There is a large living room, library, kitchen, two dining rooms, four bedrooms, two small bedrooms for servants, three full baths, a servants' bath and two half-baths.
We know what you're thinking – it's a pretty good place to throw a stripper party, right?
Rumor has it that Mayor Kilpatrick was thinking the same thing.
"They say" that in 2002, Kilpatrick threw a wild party involving strippers, one of whom was named Strawberry, a 27-year old exotic dancer also known as Tamara Greene. Everybody was having a good time until the mayor's wife, Carlita Kilpatrick, came home unexpectedly and, upon discovering Kwame with the strippers, began to attack one of them (rumor has it that she attacked Greene).

Carlita Kilpatrick – deserves R E S P E C T
April 30, 2003
Around 3:40 am, while sitting in her car with her boyfriend at the intersection of Roselawn and W. Outer Drive, Tamara Greene was shot 18 times with the same exact type of .40 caliber Glock handgun and bullets that are issued to Detroit police officers. The boyfriend was wounded, but was not shot at, even after the white Chevrolet TrailBlazer that the shooter(s) was in turned around and drove by a second time. This fact led Detroit Police Lt. Alvin Bowman to conclude that Greene was the only intended target.

Tamara Greene, AKA Strawberry
This led to the theory that this was a "deliberate hit" by a member of the Detroit Police Department. Bowman is later transferred out of homicide.
Earlier that same month, Officer Harold C. Nelthrope contacted the internal affairs unit of the Detroit Police to have them investigate abuses by the mayor's Executive Protection Unit (EPU). Mayor Kilpatrick called a press conference and said the party never happened and that he doesn't 'whore around' on his wife. Shortly after, Nelthrope begins to fear for his life.
May, 2003
Nelthrope and Gary A. Brown, head of the Detroit Police Department's internal affairs unit allege that they were fired by the administration in retaliation for investigating the mayor's misconduct. An investigation by the attorney general Mike Cox and the State Police found no evidence that the party actually happened.
June, 2003
Nelthrope and Brown sued the city in what came to be known as the Whistleblower Trial.
See also:
A timeline for the Kilpatrick scandal
Kwame Kilpatrick – Wikipedia
Update – August 3, 2010
Kwame Kilpatrick gave a deposition a few days ago in a civil lawsuit. The suit accuses the former mayor of stifling the investigation into Tamara Green's death. Carlita Kilpatrick – Kwame's wife – will give her deposition in 2 days (August 5, 2010).
He was brought in from prison to answer questions. (He's in jail for violating his probation, which was related to the sex-and-text scandal).
To this date, Strawberry's murder has not been solved.
Source: Freep