Spencer West, a man with no legs since the age of five, has succeeded in climbing to the summit of Mount Kilimanjaro with two companions. To get there he walked on his hands.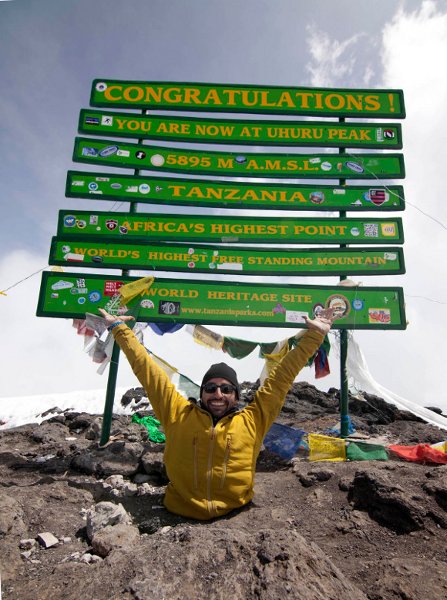 Spencer West was born with sacral agenesis, a birth defect, which affected his lower spine and legs. His legs were amputated at the knees when he was only 3 years old, and then 2 years later the rest of his legs below the pelvis had to go. He has since overcome many obstacles and became a motivational speaker and fundraiser for Free the Children, an organization with the goals of fighting child poverty and exploitation.
In 7 days, West and his mates David Johnson and Alex Meers took a grueling journey up Kilimanjaro – the highest mountain in Africa at 19,341 feet above sea level. On day seven, they reached Uhuru Peak. The journey was chronicled in his blog.
We made it. To the top of the mountain. The mountain that I promised to the world I would climb. The bleeding fingers and blisters were all worth it. I looked at the guys, my two buddies who dreamed up this crazy plan with me, and realized we actually finished what we started. There we were: me and my two best friends in the entire world, sitting together at the top of Africa, the continent that had taught us so much about compassion, humility and the power of we.
West spent about 80% of his trek using his hands, the rest finished with either a wheelchair or sometimes being carried by David/Alex and some porters. All together, the team making the trip to the summit numbered about 50. Along for the trek was owner Paul DeAngelis of Mountain Climbing Adventures and some videographers for documentation.
Because of the climb, West has been able to raise a half a million dollars for a clean water program for thousands of Kenyans.
Sources: HyperVocal, Toronto Star