The governor of Ulyanovsk, Russia urged couples to skip work on Wednesday and make love instead to help boost Russia's low birth-rate.
If a woman gives birth in exactly nine months time — on Russia's national day on June 12 — she will qualify for a prize, perhaps even winning a new home. "It's normally something for the home — a fridge or a television set," Yelena Yakovleva at the Ulyanovsk regional administration press office, said.
Russia wants to reverse a trend in which the population is shrinking by about 700,000 people a year as births fail to outpace a high death rate boosted by AIDS, alcoholism and suicide.
On Russia Day this year, a family won a jeep after their fourth baby was born on the holiday. Next year, the top prizes will include an apartment, Morozov told Reuters. "We need more people," he said. This year a record 78 babies were born on June 12 at the main hospital in the regional capital of Ulyanovsk, beating the 2006 total of 26, said chief doctor Andrei Malykh. "The scheme is working. People want the prizes," he said.
At the town's central post office, a sign urges locals to write love letters for free to anywhere in Russia, with postage pre-paid.
Back in July, the Russian youth movement known as Nashi ( meaning "Ours"), held a youth camp attended by about 10,000 uniformed young people. There, alcohol was banned, but sex was encouraged (and unsafe sex to boot – no condoms were to be found anywhere).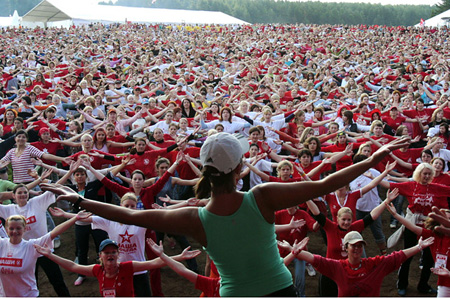 To separate sex and alcohol makes absolutely no sense to us. Russia's low birth rate signals to Odd Culture that Russians aren't exactly horny. Would a little vodka not help liven things up? Eh, what do we know?
Speaking of bizarre contradictions, young women were encouraged to hand in thongs and other skimpy underwear – supposedly a cause of sterility – and given more wholesome and substantial undergarments.
Twenty-five couples married at the start of the camp's first week and ten more at the start of the second. These mass weddings, the ultimate expression of devotion to the motherland, are legal and conducted by a civil official.
Have a kid, get a TV. We may be looking at the future of welfare policy!