Continued From Page 1

Caveland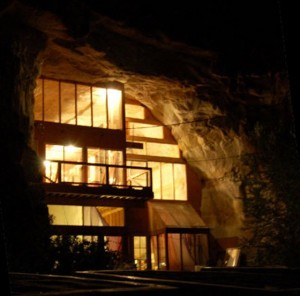 Caveland is built from a sand mine that was hollowed out so that the owner could turn the sand into glass. In the late 40s, a woman named Sue Morris bought the property and turned it into "Caveland", a concert venue/roller skating facility. Bob Seger, Ted Nugent, MC5, and Tina Turner all played there. Shut down in 1985, the place was turned into a home by Curt Sleeper and his family. The cave home is about 15,000 square feet, with three main chambers. Electricity comes from solar panels, and the fact that it's a cave means the home will stay cooler. Read more about Caveland. (Google Map)


Walking House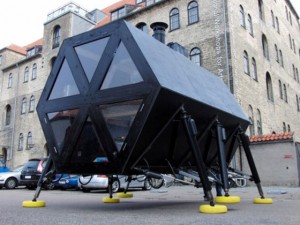 This entry into the list of weird houses was built on 6 hydraulic legs. Designed by N55, a collective of Danish artists, along with Massachusetts engineers, the 10 foot high walking house is solar powered and wind powered. It has a living room, kitchen, toilet, and bed. So don't worry about having your house in a flood zone – now the whole place can just walk away from it.


Haines Shoe House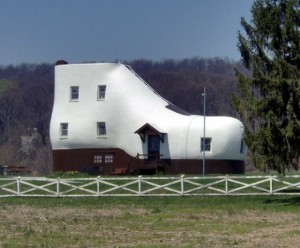 Haines Shoe House was completed in 1949 by Mahlon Haines, also known as the "Shoe Wizard". Located on Shoe House Road in Hellam, Pennsylvania, near route 30, the house is modeled after a high-topped work shoe. The interior contains 3 bedrooms, 2 bathrooms, a living room area, and a kitchen. Haines had owned about 40 shoe stores in the area, and wanted an interesting way to market his business. He allowed elderly couples and newlyweds to stay in the shoe house from time to time. (Google Map)


Simpsons House


The real-life replica of the house from the Simpsons was the brainchild of Fox and Pepsi. It was given away to contest winner Barbara Howard, a 63-year-old retired factory worker from Richmond, Ky. The 2200 square foot home is located at 712 Red Bark Lane in Henderson, Nevada. Unfortunately, the house has since been remodeled and now looks just like all the other cookie cutter suburban homes surrounding it. (Google Map)


Lego House


In Surrey, England, a TV presenter named James May built a full sized house made from Lego blocks. This unique home featured a toilet, shower, and lights – and was made from over 3 million little plastic Legos. The house was 20 feet high and spanned 2 stories. Unfortunately the Lego house was pulled down. However, James May did spend some time living in it.


Start Over From Beginning