We bring to you our list of 10 weird houses and unique homes throughout the world. Whether made as artwork, marketing, or for more practical/functional reasons, we think you'll agree that the following homes are weird:
10 Weird Houses and Unique Homes

Portuguese Stone House


This weird house, located in Fafe, Portugal, is made of limestone rock. The artist who put it together is unknown. It has a front door, roof, and windows. Good enough for Fred Flintstone. (Google Map)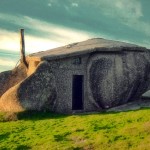 Narrow House, Greenwich Village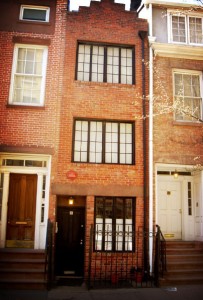 This unique and very narrow house at 75 1/2 Bedford St., Greenwich Village, NYC is also the oldest house in Greenwich Village and possibly the narrowest in New York City. Located at , 75 1/2 Bedford Street, the narrow house was built in 1873 over a former carriage entrance way, and measures 9.5 feet wide and 30 feet deep. Former residents of the house include poet Edna St Vincent Millay, actor Cary Grant, and anthropologist Margaret Mead. The house has sold within the last couple of years for over $2 million (USD). (Google Map)

Hole N The Rock


The Hole N The Rock was carved out of a huge rock in Utah's Canyonlands area. This unique cave home is 5,000 square feet and offers tours. Built by Albert and Gladys Christensen over a span of 12 years, it offers a fireplace, 14 rooms, and has many of the Christensen's original furniture, doll collection, and decorations. It is said that Albert removed 50,000 cubic feet of sandstone to build it. The couple, having passed away some time ago, are buried next to the home. (Google Map)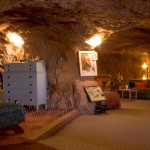 Toilet House

The late Sim Jae-Duck, founder of the World Toilet Association, built this weird house in the shape of a toilet, called Haewoojae ("a place where one can solve one's worries"). The $1 million dollar toilet home was built to spread awareness about the importance of toilet hygiene (a worthy endeavor). A generous donation of $50,000 to the WTA will get you a night in the house. After Sim passed away, his surviving family donated the building to Suwon City through an agreement to turn the house into a toilet culture museum. (Google Map)


Egg Home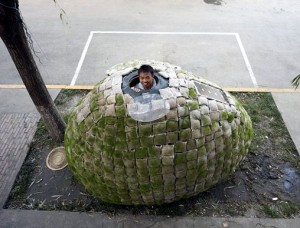 24 year old Dai Haifei, an architect, couldn't afford to rent a house in Beijing thanks to the very expensive market same day payday loan. So he built his own house made in the shape of an egg. The egg home is 2 meters high, with solar panels, wheels, and sack bags for walls. Read more about the egg house.

Continue Reading Entries 1 through 5