Groovy! If you grew up in the 70s, you are certain to enjoy this list of top 70s tv show intros. (If you're an 80s kid, you'll still know what we're talking about thanks to the magic of syndication). A good TV show needs a good opening theme song. The introduction is the thing that makes the first impression, right? So let's get on with the nostalgia: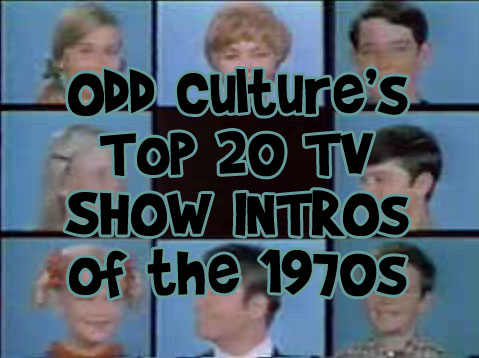 20. The Love Boat
1977-1986
Executive produced by Aaron Spelling (who gave us Beverly Hills 90210), The Love Boat was a sitcom set on a cruise ship. It aired on ABC Saturday nights along with Fantasy Island. The series' attraction was in the casting of well-known actors in guest-starring roles (like Love, American Style did). It was also one of the few hour-long shows to have a laugh track.
The Love Boat theme song is sung by Jack Jones, written by composer Paul Williams.
19. Battlestar Galactica
1978-1979
Created by Glen Larson, this short-lived series concerned a lost tribe of humans who are at war with a cybernetic race called the Cylons. Starring Lorne Greene, Richard Hatch and Dirk Benedict, it is only slightly beaten out by Buck Rogers as the ultimate in 70s space cheese. Come to think of it, Buck Rogers was Larson's baby too. Anyway, Galactica 78 has a nice little fan following. We still love the look and sound of the Cylons, especially when they say stuff like "By Your command". We also like John Colicos as Baltar. But then John Colicos is good playing villains – witness his appearance as Kor in the original Star Trek. Dirk Benedict would later play Faceman in The A Team.
In 1980 the show spun off a sequel series called Galactica 1980. Boy, did it suck. Today, of course, there's the "re-imagining."
18. Taxi
1978-1983
Taxi has quite a large following. Our exposure to taxi drivers dreaming of a different life is limited to movies like Taxi Driver or D.C. Cab. But we know that the show won a shitload of Emmys and put Judd Hirsch, Danny DeVito, Tony Danza, Christopher Lloyd, and Andy Kaufman all together in one place. The theme song is called Angela
and it's done by Bob James. The opening titles show a cab driving across the Queensboro Bridge.
17. The Rockford Files
1974-1980
Jim Rockford is played by James Garner. He's a private eye ex-con who lives in a mobile home in a parking lot in Malibu. Rockford wasn't one to look for trouble, it always found him. Isn't that the way it always goes?
Created by Stephen J. Cannell, who also was kind enough to give us The Greatest American Hero, Hunter, and The A Team, the show makes our list of top 70s TV show intros because it uses the answering machine bit before the opening titles (a different message plays in each episode, kinda like Bart Simpson drawing something new on the blackboard every week). Since answering machines were very expensive in 1974, the show had to lease it! The theme is by Mike Post; the synthesizers remind us of an ELP song. Post won a Grammy for the song in 1975.
Rockford Files Season 1 intro

16. Charlie's Angels
1976-1981
Another biggie among the top 70s tv show intros is Charlie's Angels, which was a popular TV show about three women who work for a fictional private investigation agency, the Charles Townsend Agency. Their boss, Charlie (voiced by John Forsythe), was rarely seen and is never seen full face. He only ever contacted the "angels" by telephone, addressing them via a speakerphone on the office's desk.
The three original "angels" were Sabrina Duncan (Kate Jackson), Jill Munroe (Farrah Fawcett-Majors, RIP) and Kelly Garrett (Jaclyn Smith). Later, when a character left (because the actress went on to other projects, etc) another "angel" was brought on to keep the number at three. Jaclyn Smith was the longest serving TV angel, remaining with the show for its entire five season run. Another major character throughout the series was Charlie's assistant, John Bosley (David Doyle).
The show became known as "Jiggle TV" and "T&A TV" because the angels would often be seen scantily or provocatively dressed. Farrah Fawcett once attributed the show's success to this fact, quoted as saying "When the show was number three, I figured it was our acting. When it got to be number one, I decided it could only be because none of us wears a bra."
There is nothing too special about the intro theme, but the colorful graphics are instantly familiar. The opening of Beavis and Butthead Do America parodied it.
Keep Reading: Entries 1 through 15