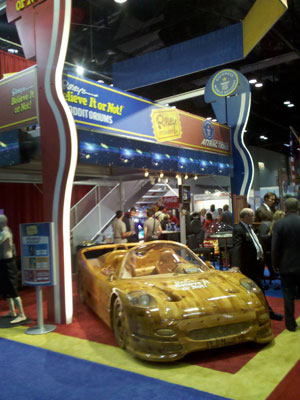 Last Thursday, Odd Culture was present at the 2010 Expo for the International Association of Amusement Parks and Attractions, located at the Orange County Convention Center, Orlando, Florida. Now, if you aren't familiar with the IAAPA Expo (and we weren't), it's basically a giant convention for everybody involved with the amusement park industry.
You didn't think theme park attractions happened by magic, did you?
No, they happen by Science. Specifically, the science involved in making turnstiles, stuffed animals, giant floats, cotten candy dispensers, haunted houses, water pump systems, laser tag, point-of-sale systems, climbing walls, tents, and interactive 3D rides.
Yes, friends, if you ever wanted to build your own theme park and had a bottomless pit of money (for the insurance) just come to an IAAPA expo and get what you need. For example, there's something called "5D interactive cinema" (alterface.com) which offers up a 3D theater attraction complete with moving ride, water effects, and pictures of you being a total goon during the ride. It's fun, and you should totally get that for your theme park, along with a giant inflatable ride castle (the outside inflatable play-areas sold out fast).

(music by Active Ingredient)
If you don't want to make a purchase of a LED sign or box of 20 furry unicorns, you can still enjoy yourself by stopping by the Ripley's Booth and taking a look at the Ferrari Made Out Of Wood (created by Italian artist Livio De Marchi).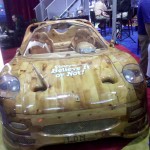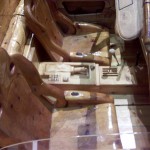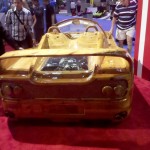 It's not a real car – it's a boat! Fooled you, Ferrari lovers!
We also watched Al Gliniecki try to beat his record at tying cherry stems into knots using his tongue (the record was 39 in 3 minutes – he almost beat it).
Then of course, there's the Lizard Man (Erik Sprague) who did his "Block Head" performance, which involves driving a 6 inch nail into his head. Watch below:
In case you are wondering, that giant animatronic guy is Robert Wadlow, who at almost 9 feet tall was the tallest man in history (he died in 1940).
Ripley's had a fun booth which even won an Image Award for Best Booth. Afterwards, Bill got a nice tour of the Ripley's Warehouse at the corporate headquarters, which reminded him of the ending to Raiders of the Lost Ark
. (They have a giant rubber band ball – way cooler than that stupid Ark!)
We were quite surprised at the enormity of the convention and the amusement/attractions industry. It's big. Ripley's, too – they have over 30 odditoriums around the world.