Bangkok is a bustling capital city that boasts numerous impressive sights, from hundreds of different temples to traditional markets, great shopping venues and as wild a nightlife as you can get. But for those who're looking for a more authentic experience, here are four of the best things do to with the locals.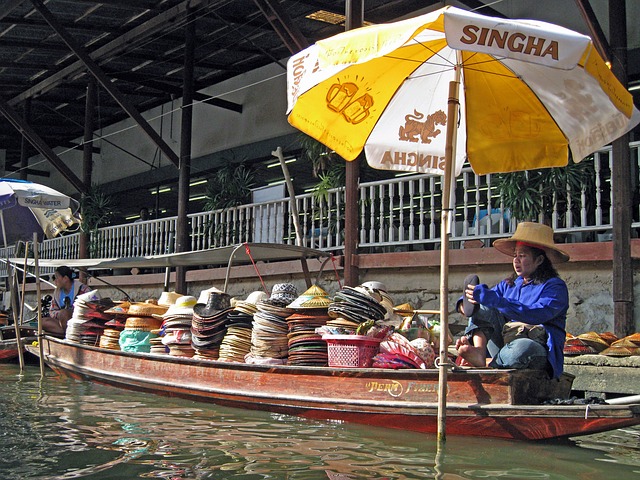 Shop like a local
There are dozens of great markets in the city but two stand head and shoulders above the rest – Chatuchak Weekend market and Klongtoey, the largest wholesale fresh market in the city. The latter option is a great one when you're hungry, what with so many fresh produce and fruits, butchered meats and dairy produce to choose from. You won't see many skyscrapers here, instead it's just choc-a-bloc with locals going about their business. Get ready for some strong smells and sights!
As for Chatuchak, this is a completely different shopping experience. Chatuchak is reputed to be the biggest outdoor weekend market in the world, covering a 27 acre sprawl with vendors selling everything from prepared foods and housewares to clothes, furniture, live animals and more. Think of the biggest flea market you've ever seen, only much, much bigger! If you're after some souvenirs, you won't find a better place than here.
Eat breakfast at the Floating Market
One of the most unique things to do in Bangkok with locals, there actually several floating markets in and around the city, but the easiest to reach is probably Khlong Lat Mayom, which opens from 9:30 am to 4:30 pm on weekends.
We recommend visiting early in the day to avoid the afternoon heat and lunchtime crowds, and you'll also be able to enjoy a traditional Thai-style breakfast on a small wooden boat. Simply wait while your boat's pilot steers you to the various food vendors, choose what you want and wait for them to cook it, then sit back and enjoy a delicious meal in a gorgeous outdoor setting.
Check out the Bangkok Noi Artisan Village
Located on the western bank of the Chao Phraya River, in Thonburi district, this is one of the last-surviving artisan communities in Bangkok. Called Bangkok Noi, the community aims to preserve a 200-year old lifestyle and offers several interesting places to visit where you can mingle with the locals, including a bronzeware factory specializing in bowls called "Baan khan long hin". Here, craftsmen use ancient techniques and a mix of bronze, copper and tin to create the flawless, symmetrical bowls used by monks to collect their daily offerings.
In this area you'll also be able to find the Baan Bu Market for fresh foods and produce, the Old Steam Storage House, and the Sa nguan Osoth traditional medicine shop, among other gems. A visit to Bangkok Noi Artisan Village is sure to give you a deeper appreciation of Thai art and culture, and is a great place to meet some friendly local faces.
Watch a Muay Thai fight
Muay Thai is the national sport of Thailand and is somewhat similar to what we call "Kick Boxing" in the west. In Muay Thai, fighters are allowed to use any part of their body to try and knock out their competitor, including their knees, shins, feet and elbows. A Muay Thai fight is guaranteed to be a thrilling experience amid a chaotic atmosphere, with big crowds cheering on their favorite fighters. A lot of money changes hands too, and it all adds up to a unique opportunity for visitors to experience Thai sport culture close up!