St-Tropez meets Ibiza; Mykonos is Greece's most glamorous island, especially since this sizzling destination is Europe's favourite vacation for A-list celebrities. In high summer, expect Mykonos to be filled with cruise ships, partygoers and some of the most fashionable people from across the globe.
Looking to visit Mykonos? Here are our top tips to make your holiday planning easier.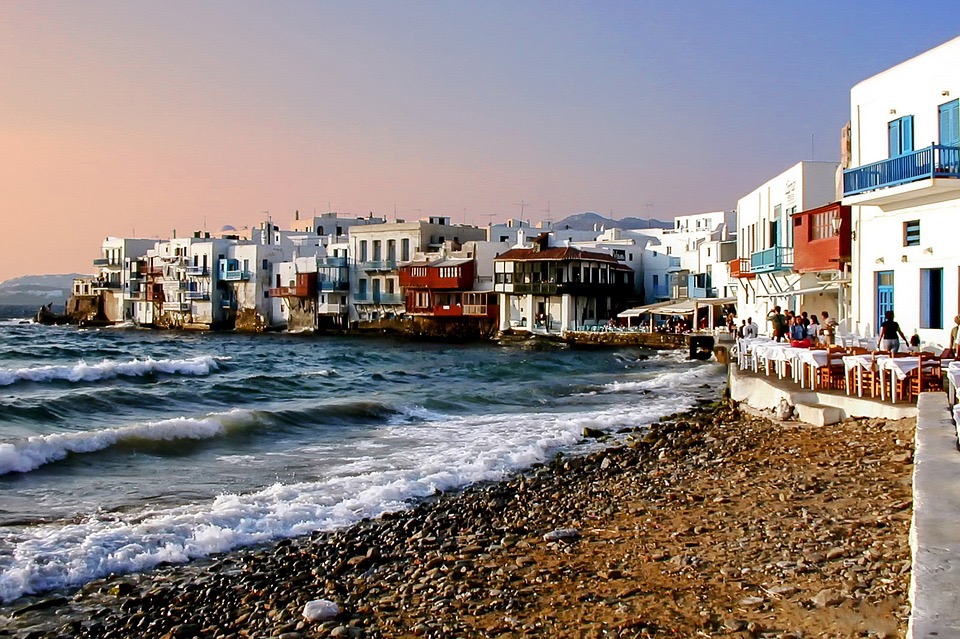 Best Time to Visit 
When you should visit Mykonos is directly dependent on what you're looking for from your Greek holiday.
If you love the party scene, Mykonos is best visited between late June to mid-September, as these are when the best DJs are in town. The party atmosphere is superb here, with many of the locals joining in on the party.
You'll find that June, July and August are the busiest times for Mykonos, and this is reflected in the price. Not only do flight fares rocket, but local hotels and restaurants will also hike up their prices too. Plus, these months can become unbearably warm.
You're far better visiting around May and October when the weather is still warm, but far more pleasant. These months are a lot quieter, so you'll be able to get a lounger on the beach and explore towns like Hóra without getting crushed by a stampede of tourists.
Getting Around 
One of the best and cheapest ways to explore Mykonos is by public bus. In the summer season, many of these buses run until 1am with tickets costing as little as 2EUR. Keep in mind though, in off-peak season, these buses run on a more limited schedule so check times before you leave.
Taxis are obviously more expensive, but are more convenient and comfortable than buses, and are particularly useful after a late night. The cost of a taxi will differ from season to season and there are no meters – rates will be dependent on your destination and should be displayed at the taxi square.
If you prefer convenience and flexibility when it comes to travel, your best option is to hire a car, scooter or motorbike. This will allow you to pick and choose when you travel, and may actually save you money if you tend to use a lot of taxis. You'll need to book in advance for summer months.
Finding the Right Accommodation
Holiday rentals are fast becoming the most popular choice for travellers, and Mykonos has plenty of villas for rent that suit a wide range of needs. It doesn't matter if you're after a bargain, luxury villa or private pool, there's something for everyone.
If you prefer convenience on your holiday, there are, of course, plenty of hotels dotted around the island that will make your stay highly pleasant. Aside from the standard hotel luxuries, most of these will have pools, and some have gym access too.
Where to Go
Hóra, the main town in Mykonos, is great for strolling around, taking in the quintessentially Greek architecture and windmills above. However, in peak times – especially from around 10am to 5pm when cruise ships come in – the streets become incredibly congested. Hóra is best enjoyed in the evening or in quieter months.
Of course, a trip to Mykonos without visiting one of its famous beaches is unheard of. If you want to avoid crowds, Kaló Livádi is large and not covered in sunbeds, so it won't feel too touristy.
Party crowds should head to Paradise, which offers numerous water sports and diving tours. It is also close to Paránga, which is perfect for sunbathing during the day and dancing after sunset. Or, if you're travelling as a family, Psaroú is very popular and well protected so everyone can relax and have fun.
Where to Eat
Being a popular destination, Mykonos is full of restaurants strategically placed to attract its many visitors, but for a more authentic Greek culinary experience, you want to look a little further afield.
Loved by locals, Madoupas Café serves all the best Greek speciality foods. These include dishes such as moussaka, hummus and locally caught fish. Plus, the restaurant has great views over the old port so you can get dinner with a view.
If you like open air dining – just without actually being outside – Fokos Tavern has cleverly designed its restaurant with wicker and canvas roofing, giving the vibe of al fresco dining while being completed sheltered. The food is all traditional and local, and they have an impressive grill for BBQ fish and meats. The desserts are also delicious.