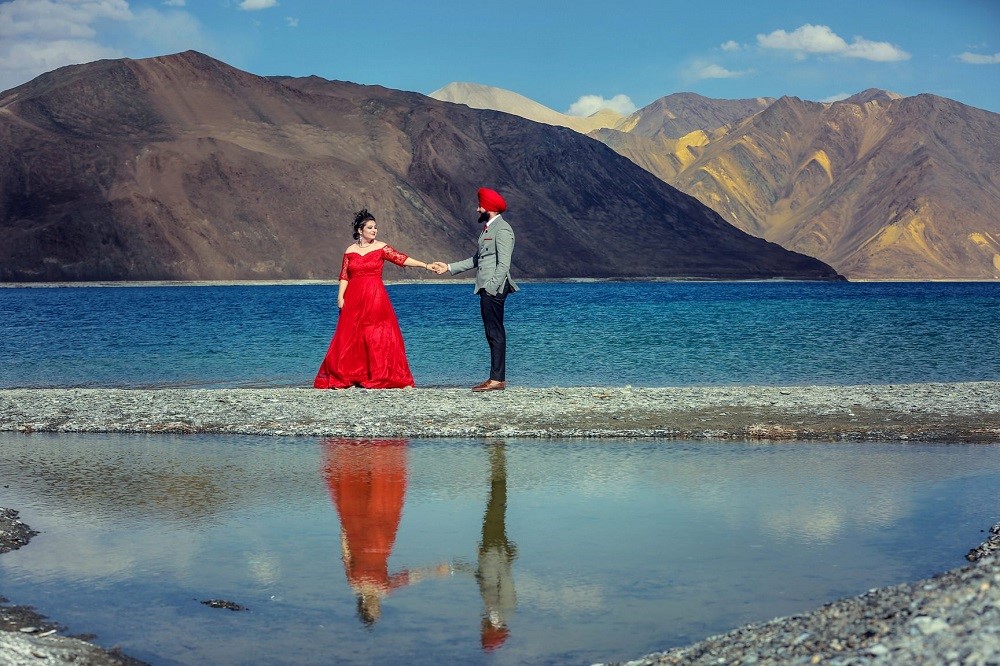 India, a country which is not only known for its massive diversity but also for a myriad of exotic and exquisite locations it encompasses.
In India, one can seamlessly find all type of locations be it tropical, snow-capped mountains, dessert, dense forests, heavy rainfall regions, and the list goes on. The range of landscapes are the perfect gateways for couples-to-be to have a scintillating and out of the box pre-wedding photoshoot.
Having a pre-wedding photoshoot in the urban region or historical places have become quite cliché. It's high time couples should broaden their horizon and choose surreal and full of solitude places that are excellent for conducting pre-wedding photoshoot and also give a sense of belonging.
Here, we bring you some of the most exquisite and bizarre Islands in Indian for an extraordinary pre-wedding photoshoot. Don't forget to bring your budget wedding photographers in delhi to curb down the photography budget.
Barren Island – Andaman
It is one of the most underrated Islands in the Andaman region. Though Barren Island doesn't encompass plenty of places to visit, however, one can plan a stellar pre-wedding photoshoot near the only active volcano in South Asia. In addition to that, it is a location with outstanding topography and also famous deep-sea diving.
The best time to have pre-wedding photoshoot here is in between February and November. You can reach to this location via a flight to Port Blair, or you can opt a private ferry which is bit exorbitant option.
Majuli Island – Assam
For those who don't know, Majuli Island is the biggest river Island in the world and well-known for its diverse and staggering ecosystem. It is one of the many wonders of Assam state. Majuli Island is not only known for its unique and fascinating lifestyle but also for the remarkable twenty-one satras which are prevailing on the Island. There are no lavish hotels in Majuli. You need to find homestays for your accommodation.
The exemplary time to visit Majuli Island is during the months of June to April or in the winter season as well. To reach Majuli Island, You need to catch the flight up to Jorhat, and from there it is at a distance of 14km.
Netrani Island – Karnataka
This utterly beautiful Island is accessible via the town of Murudeshwar, and it is also known as Pigeon Island. Kissing the cold breeze and water of the Arabian sea, this picturesque Island encompasses sky-touching cliffs and jagged rocks which makes it ideal for having an iconic pre-wedding photoshoot.
As it touches the mighty Arabian sea, you can also spot the exotic fauna like Shark and turtles which you can capture as well with the help of professional photographer and give your photographs a panoramic look.
You can reach this exotic Island by renting a board from Bhatkal. The ideal time to hop on Netrani Island is during the months of December to February.
Elephanta Island – Mumbai
A widely popular destination situated in the north-east direction of Mumbai boasts a staggering number of stunning backdrops, kudos to the labyrinth of the elephant caves. All the rock-cut structures at Elephanta Islands are a literal marvel, and this Island has been designated as a world heritage site by UNESCO. Here, you can have countless photo-shoot sessions for your pre-wedding photoshoot.
The best time to hit this place is during the months of November and March as the temperature during this period, the weather is quite mild.
DIU Island
This poky but utterly beautiful Island is situated at the southern coast of Gujarat region has one of the finest architecture and infused Portuguese culture. DIU Island is one fine example of peace, cleanliness, and outrageous natural beauty.
The vintage architecture of this place can be utilized as a backdrop for numerous of your pre-wedding photographs. DIU Island encompasses a plethora of budget-friendly hotels that got pretty good reviews from travelers. Most of the times, it is quite humid in the DIU Island region. Therefore, we recommend you to hop on there during the winter season.