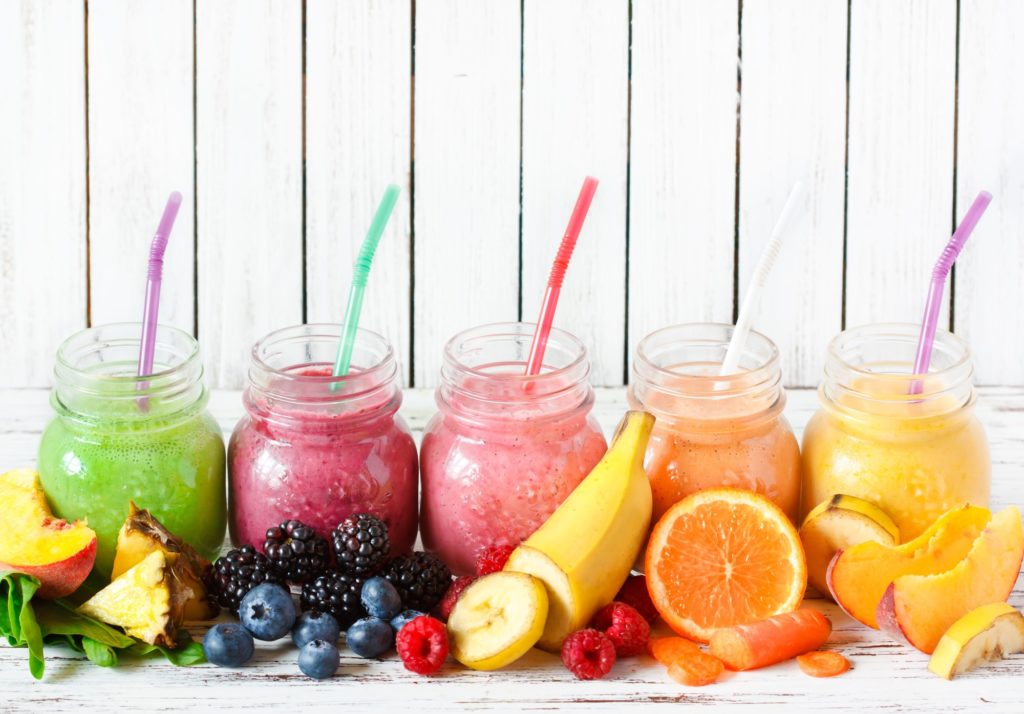 CBD is everywhere. It's somehow in our inboxes with offers of "Free CBD Clinical trial!" that we absolutely didn't sign up for.
But it's also making waves in the non-spam real world, with products upon products. It was normal when people came out with tinctures and vape juices, but what other strange product could they think of?
There's just ten of them below – and that's only dipping a toe in the market waters. Learn what you can buy with CBD infused into it, below.
1. Smoothies
We all love a smoothie, they're healthy and sweet – and delicious! They have vitamins and minerals, but what about CBD – do they have that?
They do now if you live in Philly. There's a small food chain in Philly called Fuel.
They offer regular smoothies too, of course. But if you want some fruit with a side of calm, you have three hemp-infused choices to choose from.
We're not sure the exact kind or brand of CBD they use, but it has to be high quality, as not all are made for ingestion.
They Offer a CBD Berry Dream, which is strawberry, mango, apple juice, and a banana. They blend .5ml CBD oil in, which isn't much – just enough to calm your jittery nerves.
If Berry isn't your jam, you can try their Orange Dream option. It has OJ, banana, low-fat yogurt, french vanilla, and .5 ml CBD oil. It sounds like it'd taste like a creamsicle (which is what it looks like).
Putting veggies in smoothies is a really good way to get roughage in your system all at once. If you want to drink some good green, you'll like their CBD Green Dream. It has kale, spinach, honey, pineapple juice, and ginger.
Plus that .5 ml CBD oil, of course.
If you want an extra boost, you can add protein, energy boosters, creatine, or glutamine to any smoothie for an extra charge.
Next time you're in Philly, skip the Cheesesteak that will make you feel tired for hours. Instead, head to one of Fuel's locations.
2. CBD Shampoo
Does your scalp need a dose of CBD? If it does, you can look at the brand Prose – which was started by a former L'Oreal employee.
They have an offering (that's around $25) with CBD for scalp health. There aren't many studies that show what CBD can do for your scalp in particular, but it's not crazy to imagine it could help reduce inflammation.
The shampoo also has licorice root and B-5, which aid in moisturization. We can't tell you which of the three ingredients helps the most, but they're a good combination if you're willing to spend more than $20 on shampoo.
3. CBD Mascara
Yes – we're serious. We'd need to run this by an ophthalmologist before recommending it, but we're only here to tell you about products. The brand Milk, which is a small and ethically-run company, makes "Kush" mascara.
On the Milk site, the mascara has four and a half stars out of five, so you at least know people like it. It's priced at.
The company itself is known for its inclusive marketing, they use models of all colors and genders (including whatever's in between). Non-CBD-wise, they're known for their highlighter and "blending balm".
They're starting to be represented in major stores like Sephora, or you can shop their products online at Milk Makeup.
4. Lord Jones Gummies
If you're looking for edibles (CBD only) that look like Mr. Darcy himself could have hand delivered them, you'll find them at LordJones.com.
The gummies themselves look like classic gumdrops, but you'll pay a steep $45 for nine of them.
However, with the price, you get top quality CBD that Lord Jones is committed to researching. They come in what looks like a fancy soap or jewelry box, so you're really paying for the experience.
Each gummy has 20 mg of CBD in it, which isn't a ton – but it's not laughable either. They call them "mood stabilizing" candies, not "mood changing".
5. Hemp Coffee
Someone we know once said the secret to parenthood is a joint and a shot of espresso. While we can't condone that kind of advice, we can give you a better option with Strava Craft Coffee.
The Denver-based roasters are very small-batch oriented, which may be why a bag of the stuff will cost you $55. For the price, though, you get CBD infused coffee.
They have different blends for different moods, like focus and restore. If you're someone that gets jittery from coffee but needs the energy, it's worth a try.
Plus – you'll be supporting an independent business, which is something we love.
Not that Colorado is desperate for business in the marijuana/hemp arena, but it's still good karma.
6. Bath Bombs
There are two companies (that we know of) that make CBD bath bombs. We'll start with the smaller company and then tell you about what the bigger one offers.
First things first, we have the Life Flowerchild Bath Bomb. It's 18 dollars, but you're getting fresh (dried) flowers, CBD, and a crystal embedded in the bomb all at once.
The company says it's modeled after the "flower children" of 70's past, who would spread the message of love and unity.
Flavor/scent wise, this bomb has peppermint, eucalyptus, and rosemary in it. All of those will send you into a well-scented bliss 0 and the CBD doesn't hurt either. It has 50mg of CBD in one bomb, which is respectable.
Since you're bathing in it, you can handle higher amounts than you would if you took it by mouth (or internally).
Cann I Be Green Goddess
The semi-MLM company Perfectly Posh sells a bath bomb offering with CBD as well. Unlike the bath bomb above, it's section into four quarters or uses.
The whole thing has less CBD than Life Flowerchild's does, but you'll still feel the difference. You can buy directly through their website, for about the same price. The brand also has a CBD tincture as well.
7. Lube
Yes – your lady parts can get CBD'd as well. Foria is the first and most popular infused lubrication brand, and it's made specifically for women.
To apply, you spray or spread the lube on your vagina and wait 15 minutes for full effects. Some people have more luck with this product than others, and it's a pricy thing to try.
If you have a dispensary in your area or an adult shop, see if they have samples you can try out first.
It's non-psychoactive, of course, so you can buy it in non-legal states. Find out more about what it does and the ingredients on their site.
8. Muscle Roll-On
If you're someone that works out a lot (or gets hurt a lot) then you need to try 324. It was developed by a jiujitsu fighter who injured two of his vertebrae. He created the product after having success treating his pain with cannabinoid oil.
It also has camphor and menthol, which you can find in most over-the-counter pain roll-ons, like Icy Hot. This tube doesn't come with a Shaq endorsement though.
A lot of people who say what is CBD good for getting converted with this heavy-duty pain reliever.
9. Lip Balm
If your lips need a kiss from the green goddess (not the green fairy, that's absinthe) you can get some from this lip balm by Vertly.
The whole container only has 25 mg CBD, so don't expect a mood change from smearing this on your lips. Instead, you'll get the soothing and moisturizing effects of hemp oil, for a respectable price.
If you want to spend less than $25 and just dip a finger in the CBD trend, this is the way to do it.
10. CBD Lollipops
If you're looking to get your childhood back, just for a few minutes, but with an adult twist – try these lollipops. They're infused with CBD along with being vegan and gluten-free.
You can get them from headyharvest.com if you want to try their flavors.
It's a new twist on the gummies that not many people have thought of yet.
The Strange Product Roundup
What did you think of this list? Would you use any of these? Which one caught your eye most?
We expect to see more strange product development as CBD grows in popularity and gets more researched by the FDA in the future. As of May 2019, the FDA is looking into the CBD compound to approve it, officially, for public use.
Get on the train now, or get left behind.