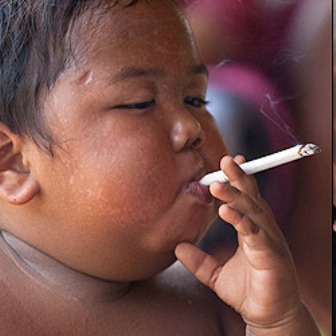 Source: Daily Mail:
A 2 year old boy smokes 40 cigarettes a day and lives in a fishing village in Indonesia. His name is Ardi Rizal and he throws tantrums when his parents don't give him his cigarettes. Given his first ciggy by his dad when he was a year-and-a-half old, the kid now smokes up to 40 cigarettes a day.
Ardi's dad Mohammad Rizal said:
I'm not worried about his health, he looks healthy… He cries and throws tantrums when we don't let him smoke. He's addicted.
Jesus, what? There are no words for this dude.
Update
CBS went to Sumatra to talk to Aldi and his so-called parents. And still, he is a good little chain smoker.
"We surely hope he will quit… but I can't stand seeing him hurting himself. What can we do but accept it as it is?" – Mom