Here's a list of 10 weird coffins – why get buried in the same boring old box that everyone else uses? We've seen a guy buried in a Pabst Blue Ribbon coffin, we've seen the bizarre fantasy coffins of Ghana. Here are ten more weird coffins that prove just because you're dead doesn't mean you can't still have style.
10 Weird Coffins
Bacon Coffin
Too much bacon may kill you, but bacon will never leave you, thanks to this weird coffin with bacon design, from J&D's, creator of such glorious products as Bacon Salt, Baconnaise, and, uh, Bacon Lube. The bacon casket is composed of 18 Gauge steel with "Premium Bacon Exterior/Interior." You also get a bacon air freshener with it – not everybody's cup of tea, but when you're in a state of decomposition you should take what you can get! The bacon coffin is yours for $3,000.
Hot Rod Coffin
Karen Calabrese recalled something her husband James said at a funeral, as he was admiring the black, bullet-shaped casket that housed a brother-in-law. "I want that when I die," he told his wife, "and I want headers on it." "Whatever you want, dear," Karen Calabrese told her husband. "If you don't bury me with headers, I'll haunt you."
After avid hot-rod collector James Calabrese passed away from a heart attack, Karen kept her promise. His casket was tricked out with parts from his 1958 Chevy Biscayne, along with V8 engine headers, dice and the license plate. "That's the fastest casket I've ever seen," said a family friend.
Star Trek Coffin
When you're ready to get beamed up into heaven, be sure to be buried in this weird coffin with a Star Trek design. It's created by a company in the USA called Eternal Image, which allows you to choose between Star Fleet, Federation of Planets, or Klingon design. Whatever design you choose, try to make sure you're sent to the Genesis planet.
Coffin Couches
Being dead doesn't mean you shouldn't also be comfortable. These coffin couches help drive that point home. The following coffin couch/sofa was sold on Etsy by somebody named VonErickson for $3500. The coffin couch came in purple, red, or black velvet. (Sorry, folks, it's gone).
Guitar Coffin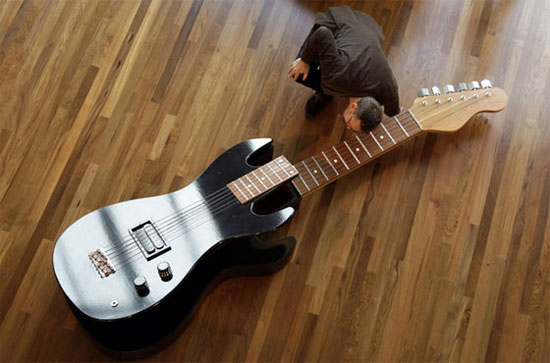 The obvious choice for rock'n'rollers everywhere. The family of a teenager chose to bury him in this guitar coffin, made to look like the one he once loved. The guitar coffin comes from Crazy Coffins, located in the UK. They are a subsidiary of Vic Fearn, which has been making coffins since the late 1800s. Along with the guitar coffin, Crazy Coffins makes interesting, odd caskets made to look like hot dogs, beer pints, even a replica of the red bell hanging outside St. John's church in Lincolnshire.
Keep Reading – Next Page