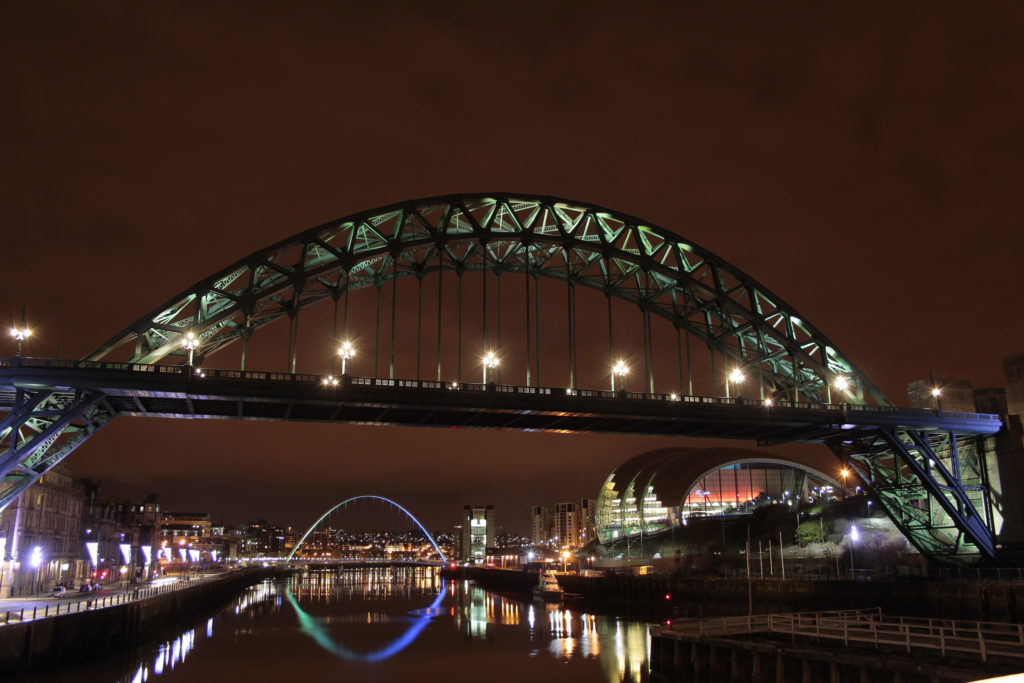 "Newcastle by Night" (CC BY 2.0) by 96tommy
For many years now, Newcastle-Upon-Tyne has been renowned throughout the UK for its incredible nights out. Their clubs draw in enormous crowds of locals, visitors and occasionally even celebrities every weekend. In fact, the city is so famous for it that the British Jersey Shore spin-off Geordie Shore is set there. So, with so many clubs to offer which are absolute musts for the average Newcastle tourist looking for a good night out? Let's take a look:
Digital
Let's start with one of the most famous clubs in the whole of Newcastle. There was a time when this humble Newcastle nightclub – labeled "the Fabric of the North" by locals – was ranked eleventh on a list of the best clubs in the world. Since it first opened in Newcastle's Time Square in 2005, Digital has hosted several high profile celebrities including David Guetta, Fatboy Slim and Deadmau5. As the venue can hold up to 2,200 people at any given time, we can only imagine how much fun those nights must have been.
House of Smith
While Digital may be the "Fabric of the North," House of Smith is the "only true VIP Newcastle nightclub." As you enter you'll notice how the lavish 1920s décor and dim lighting turns the entire club into a sultry hideaway where you will have champagne delivered to your table. If you happen to attend during a special occasion, you may even get a Millionaire Mojito made with champagne and white rum. Do bear in mind that queues for this hot destination are usually infinitely long, but just remember that once you're inside you'll have access to one of the longest cocktail menus in the whole of Newcastle.
Boiler Shop
[youtube https://www.youtube.com/watch?v=RQrk9Huv7jg?ecver=2]
If you're looking for something a little quirky and different then the Boiler Shop is a great place to try. Located on South Street near the Tyne Bridge, this club hosts a variety of themed nights from vintage clothes sales to techno DJs. Arguably the most famous event that is regularly hosted by Boiler Shop is Bongo's Bingo, an event that combines your regular nightclub rave with a good (and loud) game of bingo. Britain is absolutely obsessed with online bingo, with national papers such as The Sun even offering their own specialized bingo websites, so a night where you can join them in their element at Boiler Shop will be a real treat.
Florita's & Madame Koo
[youtube https://www.youtube.com/watch?v=squS9ymD10A?ecver=2]
As these clubs are interlinked, it is absolutely impossible to choose between them. If you enjoy a dark, sultry atmosphere complete with elegant Asian decor and private booths then Madame Koo will definitely meet all of your wants and needs. Alternatively, Florita's Miami Bar and Garden is perfect for visitors who prefer supping cheeky cocktails while soaking up the tropical vibes. We highly recommend the Buried Treasure cocktail here as it is actually served in a treasure chest.
TigerTiger
[youtube https://www.youtube.com/watch?v=g3UeXg73eTw?ecver=2]
Anyone who has visited the fabulous entertainment and leisure park that is The Gate is sure to recognize this wild nightclub. This is because the entire outside of the building is illuminated and surrounded by excited promoters who will attempt to lure you in with offers and drinks. Don't mind if we do! Once you're inside you can pick from seven different rooms, which include the Jewel Bar, the Kanaloa Bar and Groovy Wonderland where you can dance the night away to the cheesiest songs ever made. Though this venue may not be cheap, it is definitely an experience everyone who likes clubbing must have at least once in their life.
Livello
[youtube https://www.youtube.com/watch?v=tlQ6D3GjgLU?ecver=2]
Remember when we mentioned Geordie Shore a little while ago? Well, if you're into that sort of thing then you should absolutely head to Livello where you'll get the real VIP experience. Situated off the Diamond Strip near Quayside, this nightclub offers patrons an impressively extensive drinks list including Ace of Spades champagne – Jay Z's very own brand. It's no wonder this place attracts such an A-list group of clientele, so keep an eye out for celebrities as you wander the dance floors. Oh, and also keep an eye out for the massive gorilla in the courtyard.
The Cut
[youtube https://www.youtube.com/watch?v=cGBQRtp-e_M?ecver=2]
Finally, for those of you who enjoy alternative music, there's The Cut. This place is advertised throughout Newcastle as the alternative inner city club space, and is quite different from all the other places on this list. The venue is sort of like a Manhattan loft party: edgy and cool. On Wednesday's they host Shake which is full of hip-hop and R&B from the 90s, while on Friday's there's Loop where you'll hear techno and disco. These nights cost a fiver each, but as drinks are so cheap and the music is so good you won't regret it.