Whenever anyone mentions Nevada, everyone's mind automatically turns to the bright lights of Las Vegas. However, there are plenty of other fascinating places to explore before hitting the strip at night.
Fly Geyser 
Photo by Jeremy C. Munns on Wikipedia

A spectacular site, but very much an accident, it may come as a surprise that this colourful alien-like object is actually manmade.
Sat on the edge of Black Rock Desert, the Geyser has now been there for almost 100 years. In a bid to make part of the desert available and useable to farmers, officials attempted to drill a well and in the process hit a boiling geothermal water supply. As it wasn't suitable for purpose the geyser was left and a beautiful 12-foot calcium carbonate structure formed in its place.
National Atomic Testing Museum
As we said before, Nevada isn't all about the glitz and glam we're used to seeing. In fact, it has a very deep history, part of which began in 1951 with the testing of nuclear devices. With more than 928 tests performed above and below ground at the Nevada National Security Site between 1951 and 1992, the area has been described as a lunar landscape.
Don't worry though, you don't need to go to the middle of the desert to take in the history because there's a museum dedicated to this period of time just off the Las Vegas Strip.
Home to more than 12,000 artefacts from the period, the museum not only displays and characterises the events of the nuclear programme, it also displays the impact these actions had on Nevada's towns and cities.
Area 51
If you've ever fancied a visit to what is perhaps the best kept secret in the world, then Nevada is the place to be.
Area 51 is in the middle of a desert, a desolate landscape which makes the perfect home for the biggest military mystery in the world.
Having served as a military testing facility since the 1950s, it's the destination at the heart of some of the world's biggest and best conspiracy theories.
U2 spy planes, the SR-71 Blackbird and the F-11 Nighthawk, among others, have all been built there and many visitors, determined on unearthing the bases well-kept secrets have tried to get close.
Red Rock Canyon National Conservation Area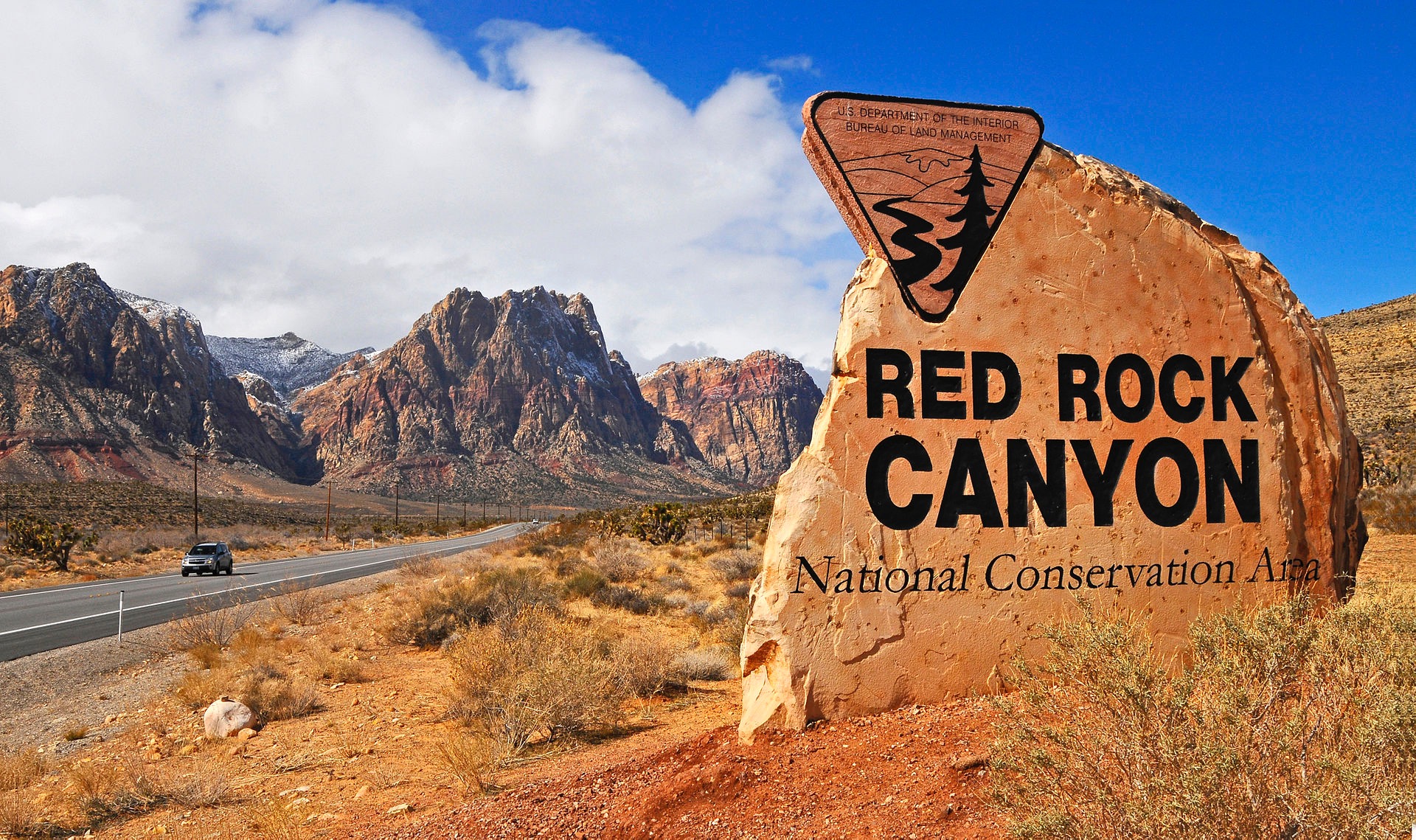 Photo by FrankFortePhoto on Wikipedia

Visited by more than 1million people each year, the conservation area can be seen from the Las Vegas Strip thanks to the sandstone formations which rise thousands of feet into the air.
The appearance of the sandstone monuments, some of which stand at over 3,000 feet and have formed over many years, can be put down to a number of geological factors including fault lines and fossilised sand dunes.
If you love the great outdoors and a challenging hike then the Conservation Area is most definitely worth straying from the usual path for.
Las Vegas
Nevada wouldn't be Nevada without the party destination that is Las Vegas. Surprisingly, Vegas is a brilliant family destination too, there are great hotels, plenty of culture, a fantastic shopping scene and things to see and do at every turn. If you do take the family then preparation is essential; it's imperative to remember that Vegas is essentially a desert and it's therefore ridiculously hot, so carrying water and wearing appropriate clothing is imperative – you'll find more top tips in this Vegas survival guide.
Finally, there is of course, the Strip, possibly Vegas' most famed attraction. For lovers of casinos, great music and fantastic shows, Strip nightlife is a must-see.