The backyard trampoline has become the topic of much discussion in the last 15 years regarding safe design and safe play. Traditional trampolines might be fun to jump around on, but they can also invite disaster if they are not designed or constructed properly. The good news is that one father and mechanical engineer took it upon himself to redesign the trampoline form the ground up — not only exceeding existing safety standards, but setting a new bar. This trampoline is designed first and foremost with your child's safety in mind.
This revolutionary new trampoline is made by Springfree, and its innovative design helps to eliminate injury from the 3 major impact zones including the springs, the ground, and the frame. Using new, flexible composite materials, all three of these danger zones are effectively eliminated, allowing a jumper to enjoy safe, fun play on quality trampolines that exceed global trampoline safety standards.
The major issue with traditional trampoline design is the use of springs to provide bounce and the exposed metal frame — both of which are common culprits in child injury and hospital visitation. But the Springfree Trampoline design uses no springs, instead relying on rows of composite rods made of strong but flexible rodsthat do the same work as springs, but are housed under the outer edge of the trampoline, eliminating the risk of jumper contact. The frame supporting everything is also taken out of the injury equation by moving it well below the surface, meaning that no matter where you jump, you will never touch exposed metal. Even the risk of hitting the ground is done away with, since every model is outfitted with a surrounding FlexiNet — an enclosure so strong that even an adult male is either gently pushed back to the mat or slowly guided to the ground without toppling the structure itself. Effectively, all major injury zones have been eliminated in an effort to make a trampoline parents don't need to worry about.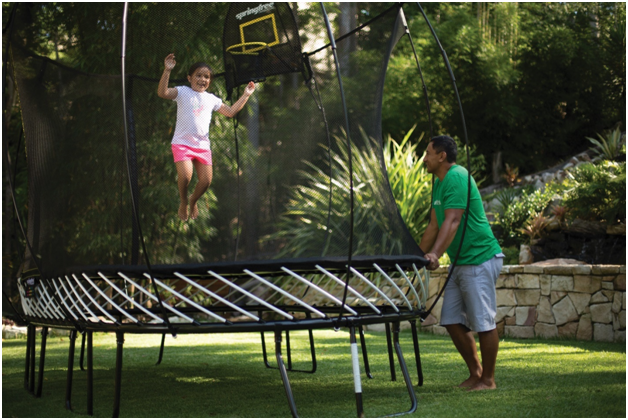 But just having a safe trampoline does not mean your kids will necessarily clamber to use it. This is why Springfree recently teamed with tgoma, a digital game company committed to making play less sedentary and taking screen time outdoors to make it fun! These active learning games— such as Fruitants and Repeat Street — are perfect for kids, who will have fun jumping around the trampoline and earning high scores. In addition, since these games encourage one player at a time, the risk of kids jumping into each other is removed. But this smart trampoline system is not just for children — it features exercise routines through tgomaFit that are designed for adults as well, encouraging a method of keeping in shape that is fun, safe, and easy.
Springfree trampolines of all models are equipped with these safety and entertainment features, and each and every one of them does an excellent job of eliminating the risk from those 3 major impact zones including the springs, the frame, and like the ground. With smart trampoline technology, your kids will practically be begging to go outside and jump on it. Truly, these trampolines are among the best you could ever hope to have.