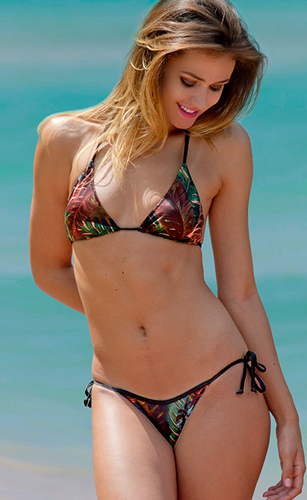 While we may still be in the early days of Spring, I for one am counting down the days when I won't have to look blindingly white anymore and can have some healthy glow to my skin. I love getting a natural, even tan that hopefully doesn't involve tan lines. But actually getting the most amazing tan can be a lot harder than you might imagine! When you have to deal with streaky tan lines and sticky tanning lotions, getting a gorgeous glow can seem downright difficult. The company CoolTanⓇ is revolutionizing the tanning game, and is making getting the most amazing tan easier than ever before with their amazing line of TanThrough swimwear and shirts!
CoolTan is making waves and doing what was previously thought to be impossible: the ability to get an incredible tan right through your swimsuit with their TanThrough swimwear. This makes getting the best tan as easy as lazing out by the pool, walking along the beach, or going boating with friends. You'll no longer have to worry about applying tanning lotions or sprays and can get an effortless tan in no time at all!
The secret to what makes TanThrough swimwear so amazing is their uniquely formulated and specially patented fabric called Microsol V. This Microsol fabric is knitted to create millions of tiny pores to allow approximately half the sun's rays through the suit to get you a tan in about the same time as you would with a medium-level SPF. The porous fabric also lets air and water pass freely through the fabric to keep you cool, even on the hottest of summer days, while wicking moisture to dry up to 3x faster than regular fabric. This is such a great feature, particularly when traveling, because it means you won't have to wait hours and hours for your soaked swimsuit to dry before being able to pack it back in your suitcase or bag. Because we all know there's nothing more annoying than having to struggle getting your wet swimsuit back on or having to risk getting the remainder of your clothes wet and moldy when you have to pack your bags again.
TanThrough's swimwear is definitely the most comfortable swimsuits I've ever tried out and I could easily wear these all day without having to worry about straps digging in or feeling wet long after I've taken a dip. The fabric is very comfortable and lightweight, without being revealing, so you can stay nice and cool while hanging out on the beach or by the pool. Plus, all of CoolTan's TanThrough swimsuits are machine washable, making it super easy to keep your suit clean and get out all that salt and sand you might bring home with you from the beach. This will help prolong the life of your swimsuit and making sure you can wear it for seasons to come!
But CoolTan realizes that it's not always possible to get to the beach or the pool to get a great tan, which is why they created a line of TanThrough shirts to make tanning easier and more comfortable while going about your daily activities. TanThrough shirts are made using that same incredible Microsol fabric so they're incredibly comfortable and moisture-wicking while also letting you get an effortless tan. The fabric contains SPF 6-10 so you can have a base layer of sun protection without even thinking about it while getting an even tan without tan lines. With a choice between T-Shirts, V-Necks, Polos, and Henleys you'll have plenty of choices and style options that we are sure will become your new favorite shirts!
CoolTan's variety of sizes, styles, and patterns to choose from for both men and women mean that everyone in the family can find their new favorite swimwear for any occasion. Whether you prefer one-pieces, structured suits or monokinis or more revealing halter and string bikinis, women can find a swimsuit that makes them look and feel fabulous! Men can choose between racers, fitted shorts, swim trunks, and board shorts to suit their style preference and comfort level. Make sure to check out CoolTan's website and Instagram, @cooltansportwear to keep up to date on new styles and sales and to see for yourself just how easy it can be to get a tan, right through your swimwear or shirt!